Neil McGarry
Computer Information Science 2017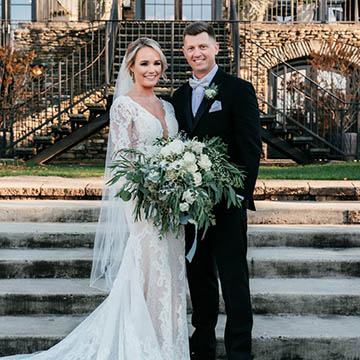 Current Position: Systems Engineer Associate, Lockheed Martin
At Lockheed Martin, Neil tests systems used by the Navy to ensure the highest quality product, so that sailors can do their jobs without the worry of system failures while in combat.

Neil credits GMercyU with helping propel his career toward the defense contracting industry.

"My capstone project with [Professor] Howard Knorr led me to a job at his company, Noetic Software, where I worked on navigation systems for military helicopters on a naval base in Maryland," he explained. "That work resulted in my interest in the defense contracting industry and gave me the experience needed to qualify for a job at Lockheed Martin... Howard's knowledge and experience in the software industry makes him the kind of teacher that drew me to GMercyU in the first place."

GMercyU is also where Neil met his fiancée, then a nursing student who now works in Jefferson Methodist Hospital's emergency department.

Read more about his GMercyU experience…
Transferring to GMercyU
After graduating high school, Neil discovered his love for technology at a summer internship as a desktop support analyst. That fall, he began at West Virginia University as a psychology major, as planned. He quickly knew it was time to change majors, however, and he also realized his school wasn't the right fit.

"At a large school, you can feel like no one really knows who you are," Neil said. "GMercyU offers a smaller community experience, which gives students a better chance to form relationships with professors and staff, as well as to get to know their fellow students. These relationships can have lasting, positive personal and professional effects."
GMercyU's CIS Faculty
Neil was specifically drawn to the faculty in GMercyU's Computer Information Science program, such as Professor Knorr (mentioned above).

"I liked that the professors at GMercyU had a lot of industry experience prior to teaching – or had current knowledge of the industry," he said. "The CIS faculty consistently improve the curriculum to ensure that it is up to date and challenging, so students learn relevant information that will help them in their careers."

During his first year at GMercyU, Neil took a Network Administration and Security class that felt to him like an extension of his summer internship, offering deeper knowledge. His professor worked in the industry.
Every lesson related to something he experienced or something relevant we would see working in the field.
During his senior year, the current head of the CIS Program, Cindy Casey, began at GMercyU.

"I was lucky enough to take her Cybercrime course that spring. It opened my eyes to the industry and how important it is to everyone on a day-to-day basis," he said.

In the class, Neil worked on projects that illustrated current cybersecurity problems. He and his classmates also conducted research that they presented at the School of Arts and Sciences' annual undergraduate research conference.

In addition to what he learned in the class, he found an accomplished professor in Casey whose commitment to her students stood out.

"Cindy has a very impressive resume in cyber security, and she taught us a tremendous amount in that course. She takes a genuine interest in her students, something I did not experience elsewhere," he said. "I wish I had gotten a chance to take more of her courses, but I'm happy to have had the opportunity to learn from her as much as I did. We still keep in touch, and I always enjoy coming back to campus to visit her and hear how the program is growing and improving under her leadership."
Acclimating as a Transfer Student
Playing for the men's soccer team helped Neil meet people quickly, including students in other majors who he might not have interacted with otherwise. As a commuter, his athletic commitments also kept him on campus more than had he not been a student-athlete. That said, GMercyU soccer didn't eat up every free moment of his time.
For me, Division III was the perfect level of college athletics because I was able to compete, focus on my courses, and work at my internship while also having a social life.
"I did not want soccer to become so much of an obligation that it took a majority of my time and interfered with my ability to perform academically."
Career Goals
"I have really enjoyed working in the defense contracting industry," said Neil. "In the future, I would like to pursue a cybersecurity position at a defense contracting company to keep our military safe from cyberattacks. I plan to get my master's degree in cybersecurity to achieve that goal."