Matthew French
Accounting 2017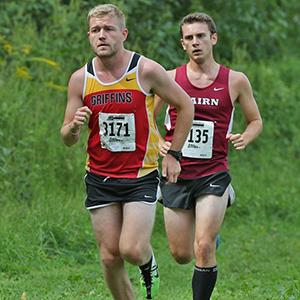 Current Position: Global Alternative Investment Services Associate, BlackRock
Story Last Updated: January 2017
Current Position Updated: August 2021

When I was in high school, I didn't even know what Gwynedd Mercy University was, but I was looking to go wherever I could get a scholarship or run track and field. I was a track and field guy in high school and I really wanted to run in college and the coach here at GMercyU recruited me. I came here and I immediately fell in love. It was mainly because of some recruiting and a couple of peers who went here that raved about the school that made my decision to come to GMercyU official.

I am an accounting and finance double-major so I have to take 150 credits. The School of Business did a really good job with trying to get you to take 150 credits in four years this way you save money with tuition and you prepare yourself for your career after college. For my accounting classes, I was always taking six classes a semester along with a couple summer classes here or there that were always towards my finance degree or my accounting degree. I have always had some type of accounting or finance class each semester so I will never forget the material which is a huge help especially in this field because things are always changing. It's really important to stay on top of that.
When it comes to my relationships with my professors, they are great. I know all my professors by name. I've spoken to them on many occasions about things other than school. They have always given me great advice especially with my internships or with anything I have done in school. I know them on both a professional and personal level. Most students probably wouldn't get that same opportunity at a different school.
For accounting and finance majors, internships are a must. There is a SEPCHE career fair that GMercyU is always welcome to go to. There are multiple firms that are there and they are looking for students from smaller schools. My first internship I had was in the spring of 2015 with one of the firms that came to the fair. I took four classes which is twelve credits and I took six credits for this internship. It worked out really well and I loved the internship.

I also received an internship offer at a firm downtown that I did during the summer before my senior year. The firm loved that I went to a smaller school. Most of the big firms are looking for people who go to small schools. They are looking for diversity in their firms. They want two or three students from small schools to work for them.

After graduation, I started working at PricewaterhouseCoopers (PWC) which is a large firm in Center City Philadelphia that is ranked one of the best in the whole country. I was able to get the internship because I went to Gwynedd Mercy University, which made me very diverse and appealing to them along with my great GPA.

I had the internship downtown and after the summer they decided they wanted to keep me. They took all the interns down to Disney World and then after the trip they sent us the offer letter asking us to accept a full-time position with them. I accepted the job and I started after graduation. I'm auditing which is something I learned in my accounting classes; working with financial statements and making sure everything is reported properly and effectively.

Ironically, I chose to leave GMercyU in my freshmen year because I thought I had a better opportunity somewhere else. After going to this new school and going through the process of transferring, I realized how good GMercyU was for me and my career. This was a huge eye-opener for me. I contacted one of my GMercyU business professors and one of my best friends who goes to GMercyU and I asked, "Is there any way I can come back because I feel like I made a huge mistake." They immediately jumped on this opportunity and ultimately, I came back. I'm very happy with my decision.