Lauren Yancer
Marketing 2021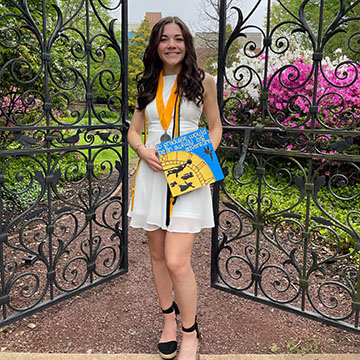 Current Position: Marketing & PR Manager at GMercyU
Gwynedd Mercy University provided me with the best option to stay close to home, remain a student-athlete, and receive a fantastic education all while making great friends along the way.
Why I Chose GMercyU
I graduated from William Tennent High School in 2018. As a first-generation college student, I was very uncertain of the process and had no idea what I might want to do with my future.

There were many factors that played a part in my decision to enroll at GMercyU. When looking for schools, I knew my number one priority was staying close to home. My high school counselor had suggested GMercyU based off of the wants and needs I had expressed to her. I took her advice and went for a private tour.

The experience was overwhelming, but deep down I knew I wanted to go here. A few months later, I visited again for an Open House. At this point I knew that GMercyU was going to be my next chapter in life, but I still had some factors to consider: Did I want to live on campus or commute? Did I want to play volleyball or simply focus on school?

My freshman year, I decided it was best to commute, and I also joined the volleyball team.
Involvement on Campus
I spent nearly every hour of every day on campus. Whether I was in class, hanging out with friends, or at practice, I was always at GMercyU.

I was a four-year member of the Women's Volleyball team. I give credit to my tour guide at Open House for encouraging me to continue playing. He told me I would regret not taking the opportunity. At the end of my junior season, I was named Captain alongside two of my teammates. It was a huge honor for me because, although I might not have made the biggest impact on the court, I was able to create a positive atmosphere for my team.

During my time on the team, I was placed on the All-Academic Team for the 2018-2019, 2019-2020, 2020-2021, and 2021-2022 seasons.

For all four years, I also served as my team's Student Athlete Advisory Committee (SAAC) representative. The club served as a great way for the different teams to interact and plan campus events.

In summer 2021, I was selected to be a member of the first cohort for Weaving Equity into Leadership: Race, Power, & Privilege. It was an online learning course to help viewers learn more about prejudice, bias, and other misconceptions pertaining to race, gender, and inequality.

Starting my sophomore year, I held two jobs on campus. In the Academic Resource Center (ARC), now called the Student Success Center, I served as a peer tutor for business courses. I really enjoyed this position because I knew that I was making a positive influence on students' academic success.

I also held the position of Griffin Ambassador for Admissions. I really enjoyed this job because I knew how much my tour guides made a difference when deciding to come to GMercyU.

Within the School of Business and Education, I served as a representative on the Business Student Advisory Board. In this role, I offered my advice on how best to create a positive environment amongst the business students.

At the 2022 Honors Convocation ceremony, I was awarded Program Honors for showing academic excellence throughout my time in the Marketing program. That same night, I was also nominated by the faculty in business to be awarded for the Outstanding Business Graduate Award.

In April 2021, I was inducted into Sigma Beta Delta, the International Honor Society for Business, Management, and Administration. Inductees must show great strength in their academic abilities in order to receive a nomination. I was also awarded the 2021-2022 Sigma Beta Delta Scholarship in August of 2021. The scholarship was only awarded to 33 students across the globe, and I felt so humbled to represent GMercyU on such a large stage.
Why I Chose Marketing
When I first applied to GMercyU, I chose Management as my major. A few weeks prior to the start of the semester, I switched my major to Marketing. I give credit to the marketing and management class I took my senior year of high school. The class was part of the Dual Enrollment Program that GMercyU offers with its partner schools.

For as long as I can remember, I've been a creative person. I love spending my free time sketching, painting, or crafting. The class demonstrated the creative aspect that marketing brings to the business world, and I knew I wanted to be a part of it.

Taking the Dual Enrollment course also offered me a leg up going into my freshman year, since I had one class already completed for my transcript.

I switched to marketing for another reason as well. During my senior year, I came to GMercyU for the day to shadow a class. Although it was an accounting class, I had the chance to meet some of the other faculty members, one of which was Dr. Ralph Hoffman, Associate Professor of Marketing. He was so warm and welcoming, and had such positive things to say about marketing and business in general. His demeanor and spirit really encouraged me to swtich from management to marketing.
Life as a Student-Athlete
I couldn't be more thankful to be a student-athlete and part of Griffin nation.
To this day, I'm still so thankful for my tour guide for persuading me to continue playing the sport I love.
Being a student-athlete allowed me to gain opportunities that other students do not get, such as meing a member of organizations, SAAC or intramurals, geared towards athletics.

As a freshman, coming into a completely new enviornment and not knowing anyone was scary, but being a fall athlete allowed me to be on campus a week prior to the rest of the student body. In that time, I was able to create friendships with my teammates and individuals from other teams, some of which I am still close with today.

Not only has being a student-athlete allowed me to gain many friendships, but it's also allowed me to thrive in school. The number one benefit to being a student-athlete is learning how important it is to possess time management skills. College is much different than high school because of the amount of free time. Having a set schedule for practices and games, on top of my class schedule and homework, helped me develop the time managemnet skills necessary to succeed in my field of study.

Each year we celebrate DIII Week and share stories about why we student-athletes chose to play Division III sports. I think it's important to highlight the importance of playing for a Division III School, as it allows for us to receive an exceptional education while playing the sport we love. Being a student-athlete has given me the best opportunities and I couldn't be more grateful.
Experience in the Marketing Program
My experience was nothing short of fantastic. Every faculty member within the School of Business and Education exceeded my expectations. They each brought something different to the table, whether it was experience in the corporate world or retail, each one had a unique story to help enhance our learning experience.

I think my favorite class would have to be Advertising. As I said before, I'm a creative person. This class helped me to show that side of myself through my coursework. We were able to create storyboards and express our creativity in other ways too. The class definitely enforced the idea that I wanted to be part of the artistic side of marketing, rather than the numbers and research.

The marketing program contained many ways to leverage my abilities as a future marketer. Several classes offered the chance to earn certifications through Google, which can make someone a more marketable candidate for a job.
If I had to choose one faculty member who stood out to me the most, it would be Dr. Hoffman. He served as my academic advisor and professor for the majority of my classes. I never felt I had to shy away if I was struggling. No matter what, he was ALWAYS supportive. I've never met a professor more caring of each students' success.
Internship Exprience
Although an internship was not required for me to graduate, I completed two during my time at GMercyU. In the summer leading up to my final semester, I worked at Managed Markets Insights & Technology (MMIT) as a Product Marketing Intern. The internship was remote due to the pandemic, but the experience was still priceless. I gained knowledge of the pharmaceutical industry and worked closely with product developers, managers, and marketers during my time. I also assisted in formulating a system to extract client insights and created a competitive intelligence framework. It was a great way to learn a different side of marketing that I didn't necessarily get to see in depth during class.

During my final semester, I had the opportunity to intern with the Marketing Department at GMercyU. I got the position with the help of Dr. Hoffman, and was able to count the internship for credit towards my degree. Luckily, the University was back in-person, so I experienced a more normal work environment than my previous internship.
I absolutely loved every second of the internship. The team was fantastic and working for a place I was familiar with made my job a little bit easier.
I mainly helped with writing news articles and Griffin Success Stories for the website. In this position, I interacted with faculty, staff, and students that I may not have if I held another position. My internship supervisor gave me a few projects to work on, including a vlog. Although it was completely out of my comfort zone, having this project helped me learn a lot about myself, and marketing.
Why Choose GMercyU?
Although this might sound completely salesy and cheesy, the reason one should choose GMercyU is simply the people. I have never met a group of people who are friendlier and more welcoming than the community at GMercyU.

GMercyU has countless opportunities for students to get involved and make a positive impact on their future. Faculty and staff members are ALWAYS there to help, even if it has nothing to do with academics. Every single member of the GMercyU community has one goal in common: the success of each student, in the classroom and out.
Post-Graduation
Since graduating early in December 2021, I have secured a job as Marketing & PR Manager here at GMercyU. The internship I had with the Marketing Department led to a full-time position, and I couldn't be happier to stay at GMercyU.

My plan is to go back to graduate school at GMercyU to earn my MBA starting in Fall 2022.
I won't lie, I can't wait to call myself a Griffin again!
In May 2022, despite already being graduated, I was able to walk across the stage at commencement with my friends and family there to support me. It was a very surreal time and one that I will cherish for the rest of my life.

I wasn't sure if I was ready to go into the real world and become an adult, but GMercyU made sure I was prepared. Although I have not left GMercyU, I am so thankful for the opportunity to continue growing in a place I consider my home.