Lauren Jani
Accounting, Finance 2022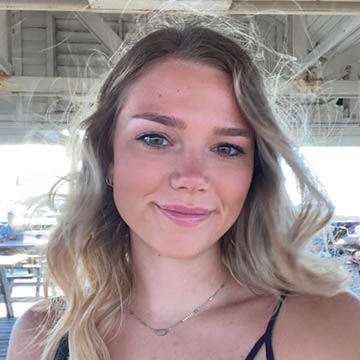 Current Position: Business Operations & Growth Lead, Mayfair
If you're wondering if GMercyU is the place for you, I promise you there is a space for everyone at GMercyU. It's an amazing community of people that make the transition easy.
Story posted: Summer 2022Job title updated: Fall 2023

When first looking for colleges, Lauren Jani knew she needed to find a home where she could continue her education and continue playing field hockey. After committing to another college originally, Lauren decided to attend another Open House at GMercyU. 

"After coming to another Open House and meeting the girls who would be my teammates, I knew this was my home," Lauren said. 
Experience in Accounting and Finance
Lauren graduated in May 2022 with her Bachelor of Science in both Accounting and Finance.

"The accounting and finance programs here are truly one-of-a-kind," said Lauren.

She describes the faculty as "some of the most amazing people I have ever encountered," who want each student to succeed. Most have experience in their respective industries which they integrate into the classroom.

"The accounting fair that's held annually is one of the aspects that set GMercyU's program ahead of many others. This fair provides so many opportunities to be placed in some of the best internships in our area as soon as sophomore year," Lauren said.

Lauren cites Professor Carlo Silvesti, who has since retired, as making a huge impact on Lauren's success in the program. "Professor Silvesti was one of my biggest supporters. When I considered transferring to play field hockey elsewhere, I couldn't leave because of the impact he had made on me as a person," she said.
Internship Experience
Lauren had the privilege of participating in more than one internship opportunity. Her first experience was at Hellings CPA firm in North Wales, Pa, where she primarily performed data entry for tax returns.
Her second internship was at Bookmate, an international accounting firm. Lauren worked as a sales associate and her main job was to assist foreign clients in understanding tax liability. In addition, she helped them select the best accounting package that would suit their needs. She was able to bring $90,000 in revenue for the company in the three short months that she worked with them.
Life as a Griffin
A member of the Field Hockey team for her four years on campus, Lauren proved to be a valuable asset on the field, earning several honors including Rookie of the Year in 2018; First-Team All-Conference in 2018; Player of the Week in 2018; and Second-Team All-Conference in 2021. She also proved herself off the field, earning the Academic All-American Honor all four years on the team.

Her athletics career does not end there. Lauren served as the Atlantic East Female Student-Athlete Representative for GMercyU at the Atlantic East Conference (AEC) Leadership Experience. She was also named an NCAA Atlantic East Scholar Athlete all four years. In 2018, Lauren was named the National Field Hockey Coaches Association (NHFCA) Scholar of Distinction, and maintained her position for all four years.

In addition to her extensive athletic career, Lauren was involved in many other clubs and organizations. Lauren served as Co-President of Best Buddies for the GMercyU chapter. In this position, she created activities for the organization's members. Lauren was also a representative on the GMercyU Business Student Advisory Board, the Investment Club, and the Griffin Student Leadership Institute of Exceptional Leaders. During her junior and senior year, she served as the video coordinator for Take Back the Night, the worldwide movement to stand against sexual violence. She was also a member of Sigma Phi Sigma, the GMercyU chapter of the National Mercy Honor Society, and Sigma Beta Delta, the International Honor Society for Business, Management, and Administration.
My favorite part of GMercyU was the small school feel. You know most people that you encounter on a daily basis and the friendliness of everyone around you makes you feel comfortable, safe, and happy pretty early on.
Lauren was named the President's Scholar and nominated to serve as the Undergraduate Speaker at the 2022 Commencement.
Post-Graduation
After graduating from GMercyU in May 2022, Lauren started her position as a Financial Associate, LLP at Lincoln Financial in Philadelphia, Pa.

"I'm very excited to start this new chapter, it will give me the opportunity to execute the principles that I learned in the classroom and with internships in a professional setting," said Lauren.