Kristina Velez, RRT
Respiratory Care 2022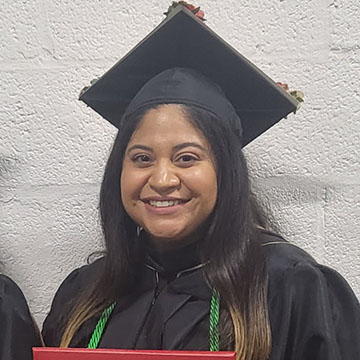 Current Position: Registered Respiratory Therapist, Penn Presbyterian Medical Center
Job title updated: Summer 2022

Kristina Velez graduated from Northeast High School in Philadelphia, Pa. When she first heard about GMercyU, she was a second-year student at another institution that abruptly closed just six months shy of her graduation date. When she learned her school was closing, she was at her clinical site, and her clinical educator recommended GMercyU.
"I met with Bill Galvin, the previous Respiratory Care program director, who took the time to hear my story and was sympathetic to my situation. After learning about the success of GMercyU's Respiratory Care program, I was confident that I could continue my journey towards becoming a respiratory therapist and decided to apply," Kristina said.


Life as a Griffin
During her freshman year at GMercyU, Kristina participated in the Griffin Student Leadership Institute (GSLI) Emerging Leaders tier. She was also elected as one of the class representatives within the Respiratory Care program. In April 2022, she was inducted into Alpha Eta Honor Society.
My favorite thing about GMercyU is the campus. It is such a beautiful and peaceful atmosphere.

Experience in the Respiratory Care Program
"I love everything about our program, between the small class size, the access to all types of equipment in our lab, and our Respiratory Care professors who are personally dedicated to our success," Kristina said.
"In addition to all of the Respiratory Care professors who have been a constant support throughout my education, I also love and appreciate Barbara Caley," Kristina said.
Kristina was very pleased to hear that GMercyU offered ASL courses with Professor Caley. "She is passionate about teaching others about Deaf culture. I always looked forward to her class as it was always so engaging and never felt like work," Kristina said.
Clinical Experience
Kristina completed a number of clinicals at hospitals in the area including Thomas Jefferson University Hospital, Hospital of University of Pennsylvania, Lankenau Hospital, Penn Presbyterian Medical Center, Children's Hospital of Philadelphia (CHOP), Jefferson Torresdale Hospital, Abington Jefferson Hospital, and Virtua Voorhees Hospital.
"As a Respiratory Care student, I acted as a physician extender, assessing critically ill patients of all ages and providing them care in various intensive care units. Additionally, I developed competencies in the numerous areas of respiratory care such as pulmonary function testing and pulmonary rehab," Kristina said.
Why Attend GMercyU
"GMercyU is a school that truly cares about the success of their students. Throughout my time here I have been able to establish connections with faculty and staff that support me and my needs as a student to achieve my goals," Kristina said.
Post-Graduation
Upon graduating in May 2022, Kristina will begin her career at one of her clinical sites, Penn Presbyterian Medical Center.
November 2022 update: Kristina was one of two GMercyU Respiratory Care graduates chosen to present their research at the Pennsylvania Society for Respiratory Care's Research (PSRC) Symposium.