Kohler Setley
Nursing 2021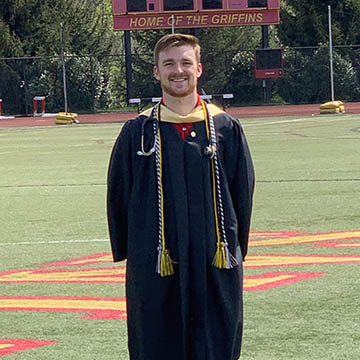 Current Position: Med-Surg/Telemetry Unit Nurse at Reading Hospital
During a typical workday, Kohler predominately cares for heart failure patients or patients preparing for cardiac procedures. His tasks range from getting EKG's and reading the results to administering cardiac medications through IV drips, and everything in between. "It makes for a quick but busy shift!" says Kohler, who always wanted a career focused on helping others.
At GMercyU, Kohler was a
Bachelor of Science in Nursing
student and played lacrosse. He completed clinicals at Chestnut Hill Hospital, CHOP, Montgomery County Emergency Services, St. Mary's Hospital, GrandView Hospital, and Einstein Montgomery Hospital.
Kohler started applying for jobs in nurse residency programs in December 2020. After interviewing with Reading Hospital and shadowing a nurse there for a day, he was sold.
"I accepted the job a few days later, in mid-December of my senior year," Kohler said.
Here's what led him to GMercyU and where he is today, in his own words.
Finding the Right Fit at GMercyU
I chose GMercyU because I wanted to pursue my nursing degree, as well as be a college athlete. GMercyU also had the small campus and family atmosphere that I was looking for during my college search.

When I toured with Coach Lindstrom and met the men on the lacrosse team, as well as meeting with Professor Velia McCabe, I knew I wanted to be a Griffin.

Professor McCabe met with me when I visited the campus as a prospective student-athlete and gave me all the insight I needed on the school, as well as nursing after school. Her personal insight helped me make a clear decision when it came time to decide if nursing was really a profession I wanted to pursue.

Throughout my time at GMercyU, she was always a resource for me and was one of the last professors who taught me in the spring of my senior year. When I accepted my job, she was the first person I emailed and thanked.
All of the groundwork that GMercyU laid out for me helped me build my budding nursing career into something with a lot of promise.
Life as a Student-Athlete
Playing a sport and being a nursing student is a difficult task to accomplish. I had my struggles several times juggling the two, balancing clinicals and practice or games and having to choose studying on weekends over hanging out with the guys on the team after a big win. But I would not go back and change any of it. It helped form me into the worker and nurse that I am today.

I need to give a special shout-out to Coach Lindstrom for pushing me on the field and in the classroom and not letting me give up on my dreams.
Why Choose GMercyU's Nursing Program
I would tell any student who is looking at GMercyU for nursing to do their research and make sure they tour the campus so they can see the resources that the school offers.

GMercyU has a strong reputation as a school that produces excellent nurses and has the labs and resources to back up that reputation.

The curriculum is difficult and will push you to be the best student that you can be, so that when you are responsible for people's lives, they will be in great hands.
Career Goals
My long-term career goals are to go back to school and get my MSN in Nursing Education so I can one day be a clinical professor and help impact students the same way that my professors did for me.