Justin DeLuzio
Finance, Sports Management 2017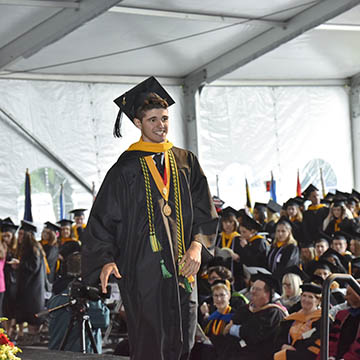 Current Position: Assistant Actuary, Chubb
Story Last Updated: Winter 2017
Current Position Updated: Fall 2023

Coming out of high school, I knew I wanted to stay in a small school and closer to home. I had played basketball in high school and I thought I might be able to play at GMercyU but after tearing my ACL, I decided to focus primarily on academics and my career pursuit. I applied for the Presidential Scholarship, which I was fortunate enough to be granted. Once I came to visit the campus, I fell in love with the school.

I originally came in as a sports management major. I always envisioned myself working somewhere in sports but after doing an internship with a local professional tennis team, I realized I loved doing the financial aspect of the team and didn't love the sports aspect as much. I ended up double-majoring in finance because I was already a good portion into my sports management major already. I thought it might come in handy in the future because of my natural love of numbers and statistics.

I had run cross-country my freshman year of high school and just always thought it was a good way to stay in shape. I never had intentions of competing very hard. After my first two years here, I realized I had some free time on my hands and I was told by one of my business professors to just take advantage of the opportunities here at GMercyU.

Going into my junior year, I moved in early because of an accelerated class and I asked one of my friends who was on the team if I can run with him one morning. Coach Clark was a little confused at the time. He wanted to know if I was interested in going out for the team. I didn't really have much interest initially; I just wanted to run with them. I ended up running a small workout with the team and after that about a week, Coach Clark reached out to see if I wanted to join. After thinking about it for a bit, I thought it would be nice to compete again and because of the inviting and encouraging nature of the team, the opportunity seemed too ideal to pass up. I have been fortunate to be a part of the team and meet a lot of great people, including the coaches.

I wouldn't have been able to go out for the team if I didn't feel comfortable in the environment here. GMercyU establishes an environment that really allows you to be yourself. It lets you try new things, discover new interests. Your future ends up being quite unexpected because GMercyU allows you to try those new things and experience those new opportunities. I do owe it a lot to the community here, to the faculty, who have been so inviting and welcoming.
GMercyU has allowed me to recognize and embrace the importance of scholarship, fidelity, and service - all values in which I will continue to live by even upon graduation. For that I am forever grateful and would encourage all to take advantage of the learning community our school offers.
At GMercyU, you're here to get a universal education, to enjoy yourself, to expose yourself to new opportunities and meet new people because a lot of times those new people will end up being your lifelong friends or even be helpful in career pursuit.

I would really encourage students to get involved even if you are a little hesitant. Because of GMercyU's campus and the friendliness of GMercyU, everyone understands that there is a lot of responsibility students have. They are very accommodating to your schedule and to your needs. I've always been told that when you're offered a good opportunity and you think you're interested in it saying yes will leave you without regret.

**Justin became a viral sensation when he was blindsided by a deer during his last collegiate cross country race in November 2016. Justin's teammate and fellow GMercyU senior Matthew French stopped to help and ran alongside him the rest of the race. GMercyU freshman Armani Rivera also ran with the pair. Justin and his teammates proved that all superheroes don't wear capes.**