Jenny Kyoung
Computer Information Science 2019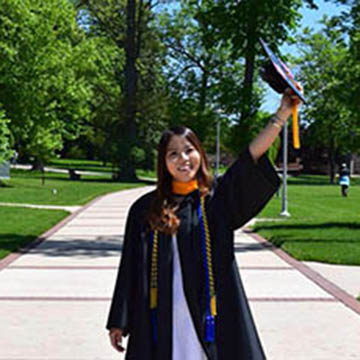 Current Position: Associate Program Manager at Berkadia
Story Published: January 2020
Current Position Updated: Summer 2023

For some, college is about discovering your passion – even when you think you already have it figured out. In these cases, the right guidance can be life-changing.

Jenny Kyoung began at GMercyU as a nursing student, but she started to lose interest in her studies as a sophomore, which was unusual for her. She embarked on some research and considered the things she really liked to do. "I talked to a lot of different people, including the professors and advisors at GMercyU who all had great influence on my decision," she said.

They helped guide Jenny toward computer information science, a field that involves problem solving and thinking out of the box, and one with high-in-demand job opportunities. "Hearing about this field truly excited me," said Jenny.

Jenny changed her major to GMercyU's Computer Information Science Program where she thrived, and today, her days as a Program Manager fly by. At Gateway Ticketing Systems, Inc., Jenny helps ensure the technical success of projects for various clients. She even leads a daily team "scrum" meeting, where she and her coworkers review their daily assignments and work to resolve any issues that arise. "Before I know it, it's time to go home," she marveled.

Read more about her journey below.
GMercyU's CIS Program
Jenny believes the curriculum of the CIS program aligns with what's required by today's workforce.
The program offers opportunities for internships, obtaining certifications, and fun, hands-on projects. You'll also learn a lot of different programming languages and software. When it's time to go out in the real world, you'll have an astounding resume to submit.
She also greatly appreciated the CIS faculty. "They sincerely care about your future and your success. When in doubt or in need of help, they are there for you every step of the way and are willing to put in extra time to meet with you," she said.
CIS Capstone Project
Each CIS student must complete a capstone project. For hers, Jenny decided to create her own app using Xamarin (an app platform) and C# (a programming language). "The layout was very similar to Facebook, but it had a dating feature that allowed users to find matches," she explained. "Professor Knorr was my supervisor during the creation of this whole project. He assisted me with the timeline of my project, along with anything else I needed to successfully get the project finished on time and ready to be presented."
Her GMercyU Inspiration
Jenny describes Professor Cindy Casey, head of the CIS Program, as not only a professor but as a friend and role model.

"She was, and always will be, my inspiration," said Jenny. "I can't thank her enough for everything she did for me during my time at GMercyU. I'm very lucky to still have a connection with her even after graduation. She's genuine, smart, hardworking, and funny. The way she takes on everything within her career is incredible, and I'm always in awe of how she manages it all. She's an amazing role model for her students and continues to be one of mine. I knew I was learning from the best, and I can confidently say that my future proves that."
What She Loved About GMercyU
"GMercyU is a very strong school for many different majors, and I wanted to study under the best minds in the country," Jenny said of her choice to enroll at GMercyU. "I also wanted smaller class sizes and the chance to establish close relationships with my professors and other classmates.
I thrive in a collaborative environment, so I ideally wanted the opportunity to engage with other students and have easy access to get help from my professors when I needed it.
I also liked the look and feel of the campus when I scheduled a visit to the campus – it was a close-knit campus that felt welcoming and safe and something I wanted to be a part of."
Maximizing Student Life as a Commuter Student
As a commuter student, Jenny jumped full force into life at GMercyU.

She joined GMercyU's Student Government Association as a first-year student, ultimately becoming president her senior year. She was also a member of the Sigma Phi Sigma National Honor Society and the Sigma Zeta Honor Society. She completed all three tiers of our Griffin Student Leadership Institute, and she served on the Student Activities Committee.

Jenny was also a member of Campus Ministry, and she shared her love for GMercyU with prospective students while working as a Griffin Ambassador for the Admissions Office.
Career Goals
Jenny plans to grow within her position and eventually work her way up the corporate ladder. "[I'd like] my work to always be challenging, different, and something I enjoy and love to do," she said. She also plans to pursue real estate as a long-term hobby.