Daniel Martin
Nursing 2022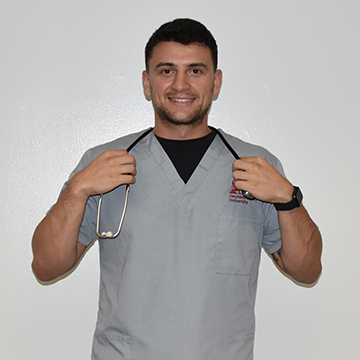 Current Position: Registered Nurse, Main Line Health
Story posted: Fall 2021
Job title updated: Summer 2022
Daniel Martin, a senior Nursing student at Gwynedd Mercy University, always knew he wanted to study nursing. He graduated from Central Bucks South High School in 2013 and prior to attending GMercyU, Daniel earned his Associates of Science from Vincennes University.

He was accepted as a transfer student at GMercyU after learning of the Nursing program from several friends who attended, and loved, the nursing school.

What appealed to Daniel the most was GMercyU's four-year nursing program and its ratio of professors to students. He feels GMercyU's smaller classroom environments allow for a better relationship between professors and students, and between peers.
Smaller schools and programs really make you feel as if you have mentors and people looking out for your well-being instead of being just a number.
Attending GMercyU as a Veteran
Daniel Martin began college later due to his service for the country. GMercyU is classified as a Yellow Ribbon school, meaning they, along with the federal government, split the cost of tuition left after a veteran's use of the post 9/11 GI bill.

In addition to his use of the GI bill, Daniel has received two scholarships, one being GMercyU's Transfer Scholarship. The second scholarship was awarded to Daniel from the Association of Independent Colleges and Universities of Pennsylvania. The Dean of Frances M. Maguire School of Nursing and Health Professions had nominated Daniel to represent GMercyU for this scholarship and he was chosen as the recipient.
Experience in the Nursing Program and Clinical Rotations
Daniel has had an extremely positive experience in the nursing program thus far. He believes his professors have done an amazing job teaching him the necessary skills to become a nurse, as well as time management skills.

Daniel has completed several clinical rotations during his time at GMercyU. For his medical and surgical rotation, Daniel worked at Paoli Hospital for a rotation and Holy Redeemer Hospital for another. The patients he worked with were not sick enough for the ICU, so he performed basic nursing duties.

Daniel also had the privilege of working at the Children's Hospital of Philadelphia (CHOP) for his pediatrics rotation. There, he worked in an inpatient hospital unit for pediatric patients — some were there prior to surgery and some after, while others were sick but did not need surgery. Daniel returned to Holy Redeemer Hospital for his maternity rotation.
This rotation includes the labor and delivery unit, the nursery, and the post-partum unit. We rotated through each to see the process from before childbirth, to after the baby is born, and when the mother and baby are discharged home.
Daniel completed his community health rotation at several locations including St. John's Hospice, Einstein Home Health, Abington High School, and Overlook Elementary School. At St. John's Hospice, he performed blood pressure and heartrate screenings on the shelter inhabitants. In addition, he distributed hot meals and toiletries. At Einstein Home Health, Daniel shadowed a home health nurse by going into patients' homes to assess their conditions. In his last rotation, at Abington and Overlook, Daniel performed health support screenings for students. Specifically, he examined their height, weight, vision, depth perception, hearing, and tested for scoliosis.
Post-Graduation Plans
Over the summer, Daniel participated in an externship at Lankenau Medical Center (Main Line Health) in the emergency room. When Daniel served in the military, he completed more first response and emergency medicine. He knew from his time of service that this is the path he wanted to take, and his externship further solidified this goal.

Daniel hopes to work for Lankenau Medical Center after graduation. After completing several years in emergency room medicine, Daniel aspires to return to school to become a nurse practitioner.