Craig Vinciguerra
Management 2018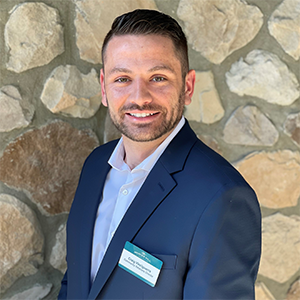 Current Position: Community Relations Director, Mercer Hill
Story Last Updated: Fall 2019
Current Position Updated: Fall 2023


With my high school career coming to an end, it was time to begin looking for colleges—a thought, at the time, that seemed so stressful, so scary, so "real-world like." I began applying to various local area universities for Early Education PreK-4 and Special Education K-8 programs and narrowed my choices down between three local universities. I checked my mailbox more times a week than I did anything else that year. Upon being accepted to each of my top schools, I toured each university several times before making a decision.

During my tours at other schools, I just didn't feel like I belonged- like I wasn't at home…that is until I toured Gwynedd Mercy University. Everyone at GMercyU was friendly and willing to help answer any questions that I may have had. The GMercyU tours allowed me the chance to meet with students, teachers, and faculty that I would be working with. All of the professors at GMercyU were all interested in me and what I wanted to do, unlike at the other schools I visited.
From the first time I met my future education teachers and staff alike, I felt an entirely different feel than I had at my other college tours. I belonged at GMercyU.
The teachers preached that small classroom size allowed each student to gain a more personalized learning experience—and looking back, I have to say that that is 100% true. My average class size is approximately 15 students, although I have classes with as little as seven students and as much as 30 students. The learning is genuinely individualized as a result of these small classroom sizes, as compared to other universities with massive 100+ student lecture halls.
At GMercyU, you're not just a number in the classroom; you're a name.
Attending a shadow day where I went through a whole day of classes as if I were a student, allowed me to solidify my decision to choose GMercyU. Rather than read directly from a PowerPoint or textbook, the teachers physically shared their knowledge and life experiences with the students- something that made me feel comfortable and excited to know that I would be taught by experienced and seasoned professors who are indeed "experts" in their fields.
Through the Teacher Apprentice Program (TAP) students don't have to wait until your sophomore or junior year to gain real classroom experience. Being in various grade levels provided me with an abundance of experience and the ability to work side-by-side with your cooperating teacher, who provides insight into the world of teaching and how to be the best teacher you can be.

Initially when I came to GMercyU I thought I wanted to be an elementary school teacher. It wasn't until the end of my sophomore year that I had a realization. As I sat in a classroom taking a test in my Reading Sequences class, looking over all of the material, I asked myself if I could see myself being a teacher and constantly using this knowledge in the future. Immediately after handing in the test, I walked over to the School Of Business to look into changing my major. At the time, I had just taken on a new job at a local retirement community that was just about to open, as a server and acting supervisor. This position allowed me the ability to establish routines, procedures, and the organization of the new dining department—I felt as If I could now see myself being a manager more than a teacher. I spoke with Mr. Mumford and we instantaneously went to work establishing my schedule for the next semester, my junior year. He was great about trying to see what classes would line up and make it as smooth as a transition as possible.

While the task of transferring majors seemed daunting, Mr. Mumford was able to work out my schedule so that I was able to still stay on track and graduate in four years. I entered my junior year of GMercyU as a Management major and had now decided that I would like to pursue a career in Senior Health Care Administration upon graduation.

Between both the Education and Business programs, I've had excellent experiences with my professors in both programs. Given the size of GMercyU, it is not uncommon to have a major-specific professor several times per semester. Initially, I had felt that this would be a detriment to my learning—what if I didn't like a specific professor's teaching style or methods? Looking back, having the repetition of the same professors has benefitted me, as you get to know the professor, their expectations, and how they conduct the class. This is also beneficial for the professor, as they get to know how their students learn best.
I think one of the biggest things that differentiates GMercyU from other universities is that you're not just another student in the class. You become a member of that department. You bring your unique take on everything and the professors genuinely value your input.
Every professor I have ever encountered at GMercyU is personally interested in your success. They're there for you when you're doing well, and they're there for you when you're struggling. They'll ask you how you're doing, how your life is going—they genuinely care about you and want to hear what you have to say. You're not just a student to them, but rather a work-in-progress. It's not uncommon for a professor to pull a student aside and ask if everything is alright—because maybe their grades or attendance is slipping, or the student seems to be off-kilt. It is an enjoyable feeling to know that you are cared about.

During my sophomore year, I was the President of the Gwynedd Mercy Association for the Education of Young Children (GMAEYC) club where I planned meetings, various events, trips, and guest presentations.
One of the significant events I designed with my colleagues was the Shepherd Project, a service project for an underprivileged school, St. Malachy's, located in Philadelphia. For Halloween, we came together as a club and put together goodie bags for the disadvantaged school children, delivered the bags to the children, and taught the children various lesson plans that we had created. It was heart-warming to see the children's faces light up—these kids may not have had any fun on Halloween had we not visited them. In spring, we planned a St. Malachy's field day, where we used funds from various fundraising efforts to bus the children up to GMercyU from Philadelphia, and provided them with a fun day filled with arts, games, and fun lessons.
Getting involved helped me to get to know my peers, educators, and the school as a whole better, while reassuring my passion for teaching at the time.
Upon my transfer to Business, I was nominated for and became a member of Sigma Beta Delta, the prestigious International Business Society, which I was inducted into in April 2017. I am also a member of Sigma Phi Sigma, GMercyU's chapter of this the Mercy honor society. Sigma Phi Sigma members meet throughout the semester to plan service projects and seminars that benefit the greater good of students and staff at GMercyU.

GMercyU also has a groundbreaking leadership institute program, the Griffin Student Leadership Institute (GSLI), which has three tiers: Emerging Leaders Certification, Evolving Leaders Certification, and Exceptional Leaders Certification. As a senior, I was in the top tier of the program as an Exceptional Leader. In this program, I had the privilege to be partnered with both an internal and external mentor in which I met with many times throughout my senior year. My internal mentor, Katie Reilly, is a personal and memory care health care administrator at a long-term care facility, much like what I want to do.
These mentors provide students with a vital connection to experience, values, and motivation—there were several times in my senior year where I reached out to both of my mentors for advice.
At the commencement of the Exceptional Leaders program, I wrote a paper discussing my experience in the program and how it helped me grow as an individual and as an eventual professional in the real world tasked with applying my knowledge of leadership to those who I work with.

I was also granted the honor of attending and participating in a meeting of the annual GMercyU Board Of Trustees Retreat. In this session, I was tasked with speaking about how the business department is incorporating Catholic Social Teaching into their courses, and how a GMercyU student has a truly distinct advantage over students at other universities because of GMercyU's diverse, liberal arts, service-based education at that creates well-rounded students and educated leaders.

I graduated from GMercyU with my Bachelor of Science in Management in May 2018. After graduation, I set out to pursue a career in Senior Health Care Administration, and landed a management in training program—"Operations Associate" role at a local, large scale Continuing Care Retirement Community in Bucks County. In this role, I rotate through every department and cross-functional business line in the operation, and will hopefully land in a position where I can apply my leadership knowledge gained from GMercyU. I would also like to pursue my license as a Personal Care Home Administrator in the near future, and eventually a master's degree in Health Care Administration.
I've always had a special connection with older adults—between taking care of my elderly grandparents from a young age to this day, combined with over six years of experience working in long-term care and retirement communities.
If I could leave anyone with one piece of advice, it would be that getting involved in college is vital. Don't be the naïve, antisocial freshman that I was, who refused to get involved. This only hindered my ability to establish crucial friendships from the beginning. By isolating myself, I only hindered my personal and academic growth by doing this, and could not honestly get the most out of my college experience. Yes, I will admit, that getting involved is a lot of work to manage—between homework, work, and club commitments, however, it is so rewarding to feel like you are contributing yourself, your knowledge, and commitment to a club or organization. Since getting involved, I feel like I have grown so much as a person both academically and personally. Yes, it may take some creative planning and time management, but it is worth the experiences you gain.

If it weren't for Sister Kati's keynote speech at the Sigma Beta Delta induction, where she urged us always to say "yes" when faced with new opportunities no matter how reluctant we may be, I would not be nearly as involved as I was in my senior year. She explained that we all have good days, bad days, and days that we feel like the world is collapsing around us.
However, if you say "yes" to every opportunity that you face, you will not regret the experiences that come along with that one word.
The possibilities are endless and you never know what you could have almost missed out on. I now strive to bring this motto into my personal and professional life, and will continue to use this and pass Sister Kati's message along to benefit my fellow peers.

A mind is like a parachute—it doesn't work if it isn't open.

I hope that you will find GMercyU as fortifying as I did. Here's to a world of conquering possibility, prosperity and success!