Courtney Cubbage
Management 2019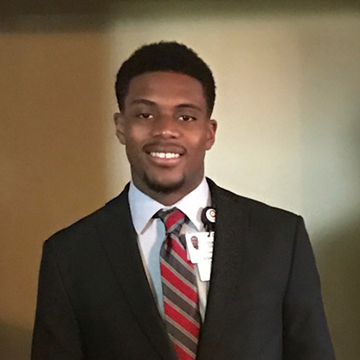 Current Position: Application Analyst, Cooper University Health Care
At GMercyU, Courtney majored in Management, served as an RA (Resident Assistant), and led the basketball team as captain. He also was named to the Dean's List multiple times and inducted into Chi Alpha Sigma, the student-athlete honor society.
My parents worked extremely hard to make sure that I could receive a college education, and I refused to waste the opportunity that I was given. It was not easy, but I wanted to take advantage of every opportunity that I had.
One such opportunity launched his career. Courtney completed an internship at Cooper University Health Care, where he worked to improve efficiencies in the Ambulatory Operations department. The vice president of the department hired Courtney to work the following two summer breaks.

After graduation, Courtney interviewed for an Applications Analyst position in Cooper's IT department.
"Even though I didn't have much experience in IT, my history with Cooper and the recommendations from the managers I'd worked with helped me secure the position," he explained.

Below, Courtney shares his GMercyU experience and future aspirations, in his own words.
His GMercyU Support System
I never felt that I had to pick or choose between being an RA or a basketball player. The reason I actually became an RA was because I was encouraged by Coach Baron to go for the job! My coach and residence director understood that I was a student first, and all of my other obligations came after that. And, they were more than happy to work together and share my time.
GMercyU Faculty
Two GMercyU professors in particular made a special impact on me.
Dr. Harper, in the business department, would always spend extra time with me after class or even during his free time to answer my questions not only about class content, but to give advice about the business world and how he became so successful. I still stay in contact with Dr. Harper to this day, and I am so thankful for his advice and guidance.
Dr. Messina, who taught philosophy, was my favorite professor at GMercyU. His classes were like nothing I'd had before. He challenged us to think critically, and I always enjoyed our discussions during class. I always say that I wish I'd had his classes earlier, because I definitely would have taken a minor in Philosphy.
There is no substitute for the one-on-one attention that you get at GMercyU. College is so much more than just the classes you take. The ability to build relationships with your professors is so important, and all of the professors have real world experience and connections that they are more than willing to share.
A Typical Work Day
I currently work in the Device Integration team in Cooper's IT department.
As an analyst, every day is so different, but some constants include: working on tickets from users who are experiencing a tech problem, working with my teammate to find solutions to persistent issues that users may face, participating in meetings to coordinate upcoming projects, and configuring and building records for devices used in the hospital, i.e., heart monitors and dialysis machines.
Career Goals
Short term, I want to continue learning and gaining experience in my IT department. I have a great manager who encourages me to take classes and earn certificates in multiple areas of IT. I'm always looking for ways to build my experience to be an asset to my team.

In the long-term, I see myself growing to become a manager, director, and eventually an executive in the IT field. Growing up, I always wanted to be a leader. A good manager is not someone who just gives directions, but someone who truly leads their employees and coworkers.