Angela Poleck
Radiologic Technology 2022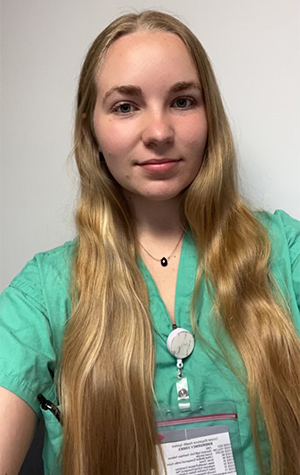 Current Position: Neurologic Interventional Radiologic Technologist, Crozer-Chester Medical Center
A career in my field of radiologic technology is incredibly rewarding. We get to see patients go from their worst to their best, all with the help of our imaging. 
Angela always knew she wanted to work in radiology, which led to her GMercyU's Radiologic Technology program. She thrived at GMercyU, making the Dean's List every semester, getting inducted into the Lambda Nu National Honor Society and Alpha Eta Honor Society, and graduating Magna Cum Laude. After graduation, she landed her dream job.
During her final months at GMercyU, she wanted to pursue a job in the Cardiac Catheterization at Crozer-Chester Medical Center but had to pass her ARRT boards before she could apply. After graduating and passing the boards, the position had been filled but she was offered her current position, which she hadn't previously known was an option. 
"I'm truly grateful this position quite literally found me, as it's exactly what I dreamt of doing in the future," Angela said. Here's more about her journey, in her own words.


What Inspired Her to Pursue Radiology
Long story short, my mom had a traumatic brain injury of two ruptured aneurysms and a massive stroke when I was in second grade. Throughout the years, she's had nine head surgeries to resolve her condition.
As I grew up, I learned of different modalities based on x-ray, such as Cat Scan, which is often used to quickly diagnose a stroke like the one my mother had. From then on, I knew I wanted to learn more about brain injuries and how to prevent and improve the outcome of a person who'd had one. 
 
Why She Choose GMercyU 
What led me to choose GMercyU is its small selection of students in the Radiologic Technology program. I applied to other schools and was accepted but only as a "medical science" major instead of specifically radiology. At GMercyU, I was accepted specifically as a Radiologic Technology student.
Because GMercyU has such a small specialized program, I was able to discuss my future goals with my academic advisor, Joy Fox, and receive guidance on how to meet those goals.
I took many courses for general education, as well as many courses that helped prepare me for the medical field. Needless to say, my favorites were anatomy lecture and lab.
Dr. Robert Kane was one of my favorite professors. He was enthusiastic about teaching, and I learned an immense amount about bones from him. In his anatomy lab class, I remember the terrifying "bone test" where we had to name tons of bones, including the specific bumps, curves, and crevices on them. 
After my first two years at Gwynedd, I began the radiologic technology part of my education at the Widener-Crozer Radiologic Technology program, which is affiliated with GMercyU.

Clinicals Experience
During my clinical rotations, I went through specialties aside from general x-ray, such as the OR [operating room] with fluoroscopy and the CT [Computed Tomography] department. During these rotations, I enjoyed the fast-paced and detail-oriented environment of treating patients. 


Life at GMercyU
At GMercyU, I was an orientation leader my sophomore year, and an orientation assistant my junior year. I also participated in work-study as a Griffin Ambassador for the Admissions Office, often giving tours of campus to prospective students.
One of the best parts of living on campus was waking up to make Saturday pancakes with your friends on campus! We'd always watch the deer dance around outside our window of Alexandria Hall early each morning.
 
Singing with the Voices of Gwynedd
At GMercyU, I was an avid member of the Voices of Gwynedd. Throughout high school, I participated in every musical ensemble of the band and choir. Because of this, officers from the Voices of Gwynedd mailed me a hand-written post card during my application process to GMercyU to welcome me to the choir to continue my musical journey. As simple as this gesture was, it meant the world that someone personally reached out to welcome me to an unfamiliar place as a first-generation college student.
When I joined the Voices of Gwynedd, I soon became an officer, which led to becoming the treasurer during my sophomore year. I found this group to be the most welcoming and caring people, making our rehearsal space like a second home. 
Voices of Gwynedd Director and Professor Carol Evans was always there to talk before or after class, whether it was personal or academic related. She was so incredibly enthusiastic about teaching that even the least musically experienced students learned to love her lessons.

What It's Like Working as a Radiologic Technologist
A typical day in Crozer's Neuro IR [interventional radiology] department begins with a diagnostic angiogram of the brain, where I work hand-in-hand in a sterile field with an endovascular neurosurgeon to guide wires and catheters through a patient's blood vessels. In these cases, the doctor guides these devices through the vessels to assess the patient's brain's vascularity and any abnormalities such as narrowings, aneurysms, or arteriovenous malformation.
A contrast solution is injected through these catheters to highlight the blood flow under fluoroscopy (live x-ray). If any abnormalities are found necessary of repair, the patient will come in for another interventional procedure. A stent may be placed in the case of a narrowing vessel. If there is a malformation such as an aneurysm, we may fill the "bubble" with tiny platinum coils so the risk of it rupturing is reduced. In the case of an arteriovenous malformation (AVM), there is a special glue called "Onyx" that can be injected to repair the abnormal vascularity.
The most rewarding interventional case of course is a mechanical thrombectomy. This procedure is an emergency where a patient comes in to the ER or is often flown via helicopter when they are having a stroke. These types of strokes require immediate intervention with those catheters and wires as there is a blood clot blocking blood from flowing to the rest of the brain.
The longer the brain is deprived of blood flow, the more irreversible damage occurs. We go by the saying "time is brain," meaning we need to take the least amount of time to remove the blood clot from the brain in order to greatly improve the patients outcome of a stroke. 
        
A Rewarding Career Path
In my opinion, a career in my field of radiologic technology is incredibly rewarding. We get to see patients go from their worst to their best, all with the help of our imaging.
I have classmates who continued their education in MRI, Mammography, and even Radiation Therapy. In the field of radiologic technology, there's always the option to continue diagnostic imaging, or advance to another modality if you choose.
With technology constantly advancing, our skills are ever-changing so this field will never leave you bored of the same old job.