Andreana Ely
History 2017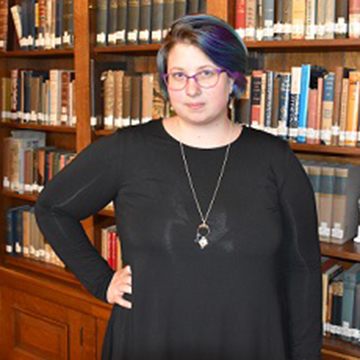 GMercyU is a liberal arts school and I feel I became an even better-rounded person by being here.
When applying to colleges as a senior, I originally chose two Catholic Colleges, one being Gwynedd Mercy University. I got accepted to both but decided the other school was closer to my home at the time. During my sophomore year, my mom wanted to move closer to her work so I applied to GMercyU again, got accepted and received a scholarship to study history.
Chasing History
I originally wanted to be a fashion designer but I've been researching history for fun since third grade. So, I thought why I don't do something that makes me happy and history makes me happy.

There are a lot of fun things and job opportunities associated with history that people might not even know about. The only role is not just teaching; you can be a lawyer. I want to be an archivist. You can work in Hollywood with fashion in order to be historically accurate in films. You can work for private firms and organizations. You can do so much and learn so much by studying history.

While it's natural for people to want to focus solely on their major, non-history majors need to also understand how history impacts other majors such as nursing, biology or even math. 
Support System
I wouldn't be where I am at today if it wasn't for all of the professors who have made an impression on me. For history, two wonderful professors are Professor Wayne Huss and Professor Michael Clinton. The Philosophy professors also provide a historical perspective in their classes.
The professors at GMercyU will help you no matter what. They all have an open door policy. They'll stop their work to help you even if you don't have an appointment.
At my last college they weren't as nice and warm and opening as they are here. If you choose GMercyU, come here for the professors. They are here to not only teach you but mold you as a person. They are so passionate; you will be passionate as well.

In the Honors program, I've been able to learn from professors who I might not have interacted with otherwise. For example, Professor McClain and I met one day and I started asking him questions. He was so excited to answer them. I think that's what makes a difference. The professors will make time for you even if you're not in one of their classes. If you're excited, they're excited.

There's so many great resources on campus. I've used the Academic Resource Center to help me with my papers for getting into grad school. Nick Schaeffer in Career Development helped me work on my resume. That is what Mercy is all about. Through their mercy, it helped me grow as a person and in turn, spread mercy to others.
Getting Involved
I am a commuter student so I know the importance of getting involved. I am in the Honors Program, President of the Philosophy Society and an Exceptional Leader in the Griffin Student Leadership Institute. By being part of a group, it helps you grow. If they need help, they can count on me. If I need help, I know they will be there for me.
Graduate School
David McAllister, the archivist here on campus, has been so influential in me coming out of my shell and gaining more confidence. When I first started here, David put a post on Blackboard saying there are archives on campus, come check them out. I thought that would be a great place to volunteer and I've been there ever since. It eventually turned into a paid, student-worker position.

Through working in GMercyU's archives, I realized that is what makes me happy and now I'm going to graduate school to be an archivist. Professor Luquet organizes a trip to New Orleans that I attended last spring. He took me to the Historical New Orleans Collection and we went behind the scenes in the archives. It made my life! We talked to the curator and Professor Luquet asked what the best grad schools were for archival studies. He said Simmons College in Boston. I researched it and knew it was the place for me. I felt like I always belonged in Boston.

I'll be starting at Simmons in January for a dual master's degree in archival studies and history.