CIS Graduate Mark Meade Named President's Scholar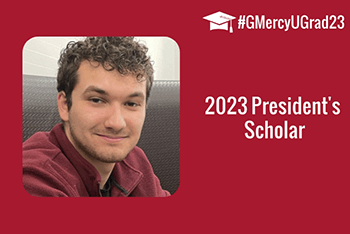 Undergraduate student Mark Francis Meade was named as the 2023 President's Scholar at Honors Convocation on Friday, May 12.
Mark Francis Meade majored in Computer Information Science with a concentration in Cybersecurity and was a member of GMercyU's Honors Program and Sigma Phi Sigma, the National Mercy Honor Society where he served as Co-President. He is also a member of the Philosophy Honor Society.
Within the CIS and Mathematics departments, Mark was a peer tutor in addition to working as a Peer Mentor for the Integrated Studies Program. Mark was also a member of the Griffin Student Leadership Institute, completing the Evolving Leaders tier.
During summer 2021, Mark completed an internship at Just in Time GCP, where he assisted the company's IT infrastructure as the company expanded by automating several processes. He also interned at GMercyU's Help Desk during fall 2021, later transitioning to the enterprise department and working there for more than a year. In this role, Mark assisted in upgrading and improving the infrastructure that future students will utilize, including modernizing the wireless access points in several buildings across campus.
Mark was a four-year participant in the Undergraduate Research Conference, presenting on topics including Artificial Superintelligence, Cybersecurity in the Virtual Pandemic Era, Cryptocurrency and Blockchain implementations, and Artificial Neural Networks. In his 2022 presentation on cryptocurrency, Mark explained how cryptocurrency functions, its origin, and how the underlying blockchain infrastructure functions. Mark's latest presentation on neural networks explained how artificial intelligence relied on the deep learning method of neural networks to utilize large datasets to their fullest potential and make predictions based on them.
Outside of class, Mark is a recurring volunteer at Habitat for Humanity Restore in Horsham, Pa., an opportunity he found because of his FYE service class. He's also engaged in service through Sigma Phi Sigma, including gift wrapping during the holidays and working with Philabundance to combat food insecurity. During his first year, Mark worked with an organization called NicksClicks, in memory of his friend Nick Esposito, to raise awareness against driving under the influence (DUI) and raised money for families impacted by DUI.
After graduating, Mark will intern for Comcast as an Application Development Intern in their Atlanta office. He hopes to be brought on full-time, but has potential jobs lined up at CNI Sales or Johnson and Johnson. Mark also plans to begin his master's program at Lasalle University over the summer with the hopes of returning to GMercyU one day as a professor.