Psychology Alumnae Present at Eastern Psychological Association Conference
In early March, Psychology alumnae Brielle Ordog '22 and Mackenzie Guerin '22 presented their research with John Gunn, PhD, Assistant Professor of GMercyU's Psychology program, at the Eastern Psychological (EPA) Conference in Boston, MA.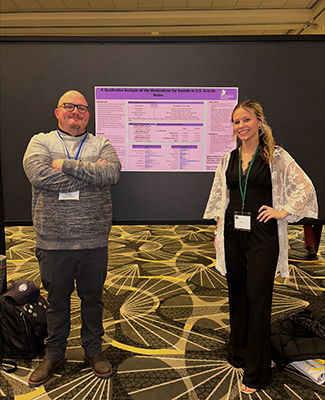 During their senior year at GMercyU, Brielle and Mackenzie had the privilege of working with Dr. Gunn and Patrick McGrain, PhD, coordinator of GMercyU's Criminal Justice program, on a research project for an internship. The research topic was suicide and what individuals think about when they think about suicide.
Part of the research process was coding, where each party analyzed U.S. samples of notes separately and then came together to compare.
"My favorite part was learning how to code and how to put qualitative and quantitative data together," said Brielle. "I really enjoyed being part of something that benefits the research community and education in general."
"I really liked the meetings. It was cool to see how we could read the same note, but have slightly different perspectives," Mackenzie said.