Athletics
Mercy in Action
Academics
Sport Business Association Members Volunteer at Young Investigator Draft
Members of GMercyU's Sport Business Association (SBA) volunteered at the Uplifting Athletes 2023 Young Investigator Draft on February 4.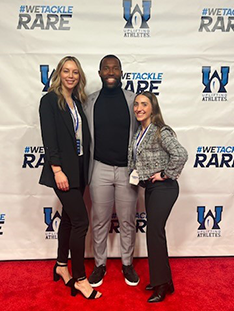 The Young Investigator Draft is an annual event hosted by Uplifting Athletes to demonstrate the ongoing commitment to cultivate resources that help to address and accelerate scientific advancements for rare disease treatments and potential cures. The purpose is to fuel rare disease researchers for generations to come.
Grants from the Young Investigator Draft fund collaborate efforts in basic bench research in an effort to positively impact treatments and potential cures for members of the Rare Disease Community.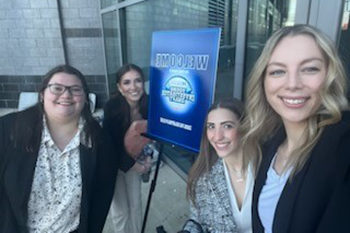 Over the last five years, Uplifting Athletes has provided over $620,000 in funding for 34 rare disease researchers.
"Volunteering at the Uplifting Athletes Draft was an amazing opportunity for us to experience first-hand what it feels like to work with professional and college athletes. We got to see behind the scenes of what it takes to prepare for events like this, plus we got to meet Cam Lynch – former linebacker for the Rams and Buccaneers," shared Vanessa Vavrova, first-year Sports Management major and SBA Event Coordinator.
"Volunteering at the Uplifting Athletes Young Investigator Draft was such an amazing event! It is great to see athletes dedicating time and money to help people that are affected by rare diseases. This event was more than just sports. It was about building a community. It was such a special night and I am so happy I was a part of it. I was also able to meet Cam Lynch and get a tour of Lincoln Financial Field. I made a great connection with the general manager of Uplifting Athletes and will be attending events with them in the future!" said Camryn Kinney, first-year Sport Management major and SBA member.

About Uplifting Athletes
Uplifting Athletes was created in 2003 by Penn State University football player and student Scott Shirley. When Scott's dad was diagnosed with a rare disease in 2002, teammate Damon Jones suggested they do something to shine a light for those who need a voice.
Penn State's football team rallied together to create the fundraiser Life for Life, a summer strength and condition competition.
There are more than two dozen university chapters across the nation, with student-athletes taking charge at event such as Lift for Life and Touchdown Pledge Drive.
To learn more about Uplifting Athletes, visit the website.