Sports Management and Sport Business Association Students Attend Career Events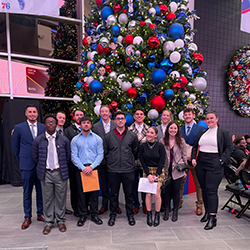 GMercyU's Sports Management and Sport Business Association (SBA) students attended two events held at the Wells Fargo Center in Philadelphia, Pa.
Philadelphia 76ers Sports & Entertainment Career Fair
On November 28, students attended the Philadelphia 76ers Sports & Entertainment Career Fair, where they connected and networked with professionals in the sports industry. In addition to representatives from the 76ers, the following sports organizations were present:
• Delaware Blue Coats
• Harris Blitzer Sports & Entertainment
• New Jersey Devils
• Leigh Valley Iron Pigs
• Leigh Valley Phantoms
• Little League International
• New York Yankees
• PENN Entertainment
• Philadelphia Flyers
• Philadelphia Union
• Playfly Sports
• PPL Center
• Reading Royals
Career fair attendees also had the opportunity to attend the 76ers game against the Atlanta Hawks.
"I am so impressed and proud of our students' professionalism. They made important connections and worked on their networking skills that will help them obtain sport industry experience and employment. We were able to work hard at the Career Fair and then have fun at the Sixers game after," Maddie Herman, SBA Advisor and Instructor of Sport Management said.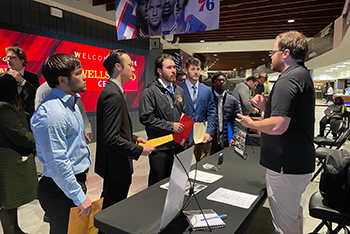 JD Rubin, President of SBA, shared "it was an amazing experience for our students, as we were able to network and learn from different professionals in the sports industry. We found out about different jobs and internships, made connections, and set ourselves up for success."
The event proved to be a success for GMercyU's students. First-year student Camryn Kinney landed an interview with the Lehigh Valley Iron Pigs for a Game Day Operations intern.
"As a first-year student, it was a great learning opportunity. I was able to make so many connections and the opportunity to apply to many different internships," said Camryn, first-year student.
Philadelphia Flyers First Line Sales Workshop
The Philadelphia Flyers First Line Sales Workshop, hosted on November 30, was an all-day event where students went step-by-step through the sales process for a professional sports team.
SBA member and sophomore sport management major John Greco was among the students who attended the workshop.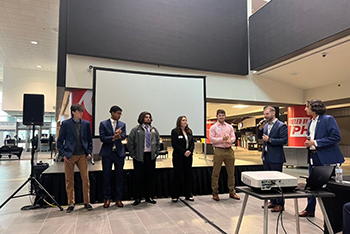 "The Flyers First Line Sales Workshop showed me the ins and outs of what it means to work in sales for an NHL team. The skills I learned can be applied to so many areas in sports management and have definitely strengthened by knowledge," John said.
Student attendees also gained valuable tips on how to construct a resume, how to network, and how to properly interview. At the end of the workshop, attendees took a tour of the Wells Fargo Center and attended a Q+A session.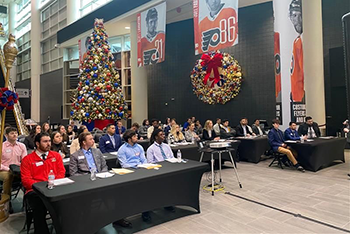 Vice President of SBA and junior sport management major Mitchell Bramsway shared that "it was great to hear Flyers front office personnel stories and advice about navigating the sport industry. My biggest takeaway from the workshop was the importance of elevator pitches when making sales calls."
To learn more about GMercyU's Sport Management Program, click here.