GMercyU's Respiratory Care Program Receives State-of-the-Art Lung Simulator
This fall, GMercyU's Respiratory Care program received the new ASL-5000 lung simulator by IngMar Medical. The simulator is capable of replicating a wide range of lung conditions for all ages, from newborns to adults.
"The ASL-5000, by IngMar Medical, can be used with our new ventilator and simulate nearly any lung condition, from asthma to emphysema and even COVID," Randy Solly, MS RRT RPFT, Professor of Practice and Program Coordinator for GMercyU's Respiratory Care Program, said.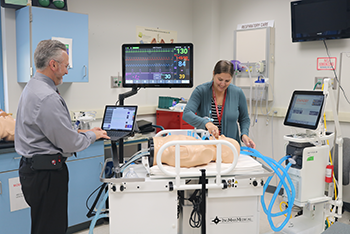 The ASL-5000 is able to "breathe" spontaneously, even when it is connected to the invasive and non-invasive ventilators in the respiratory care lab.
Professor Solly said "the simulator is a true game changer for our students as they learn about mechanical ventilation."
The abilities of the simulator do not end with GMercyU's mechanical ventilation curriculum. GMercyU's respiratory care faculty envision using the ASL-5000 in the research course, as well. It would allow students the opportunity to perform bench studies dealing with aerosol and medication deposition, patient work of breathing, along with lung compliance and resistance.
Respiratory Care faculty are also looking forward to utilizing the ASL-5000 in interprofessional simulation, as it is compatible with the mannequins currently used in the Nursing simulator center. With the new Frances M. Maguire Healthcare Innovation Center, Respiratory Care is anticipating working collaboratively with their health professions colleagues.
"The Respiratory Care Program faculty are thankful for the continued support from the University, as well as those that approved the capital expense," Professor Solly said.