AAUA Honors Integrated Studies Program Director Ariana Amaya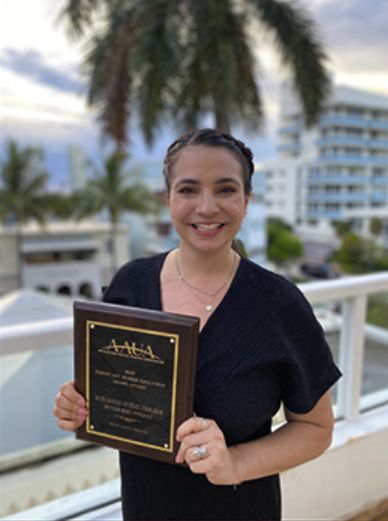 In June 2022, GMercyU's Integrated Studies Program Director, Ariana Amaya, OTD, OTR/L attended the American Association of University Administrators (AAUA) Leading, Managing, and Teaching: Exceptional Programs that Inspire Conference. While there, Amaya was awarded the AAUA Exemplary Higher Education Model Award on behalf of Integrated Studies.
The conference explored various programs across the country that are deemed exemplary models. Attendees included a diverse group of leadership, from program coordinators to provosts to presidents. Discussions included innovative ways that administrators can develop and maintain programs within their own colleges and universities.
Amaya spoke on behalf of GMercyU's Integrated Studies program and shared what makes the program unique. Additionally, she advocated for the importance of inclusive post-secondary education for students with intellectual disabilities (ID). There are currently only 311 inclusive post-secondary education institutions across the country. Gwynedd Mercy University is one of 29 four-year, residential inclusive postsecondary programs at a private university.
"People with intellectual disability represent a population that has some of the lowest employment rates nationally, and they don't have equal access to postsecondary education, which is critical for expanding employment opportunities. These low employment rates don't come from lack of motivation or interest or skills. It comes from a lack of opportunity and chances," she said.
What sets GMercyU's Integrated Studies program apart is that faculty and staff focus on students' strengths within a fully inclusive environment. The program creates opportunities in which students can build on their strengths and harness leadership skills to lead to competitive employment. Students with intellectual disabilities are valued and welcomed on campus.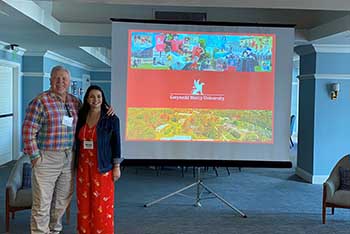 About GMercyU's Integrated Studies Program
Integrated Studies is a nondegree certificate for students with intellectual disability, which started in Spring 2020. Students in Integrated Studies audit courses, complete internships, and participate in campus life like all Griffins.
There are currently 11 students in the program with six new students joining in Fall 2022. Also this fall, one student will transfer out of Integrated Studies and begin an associates degree path based on the recommendations of faculty and staff members.
The first cohort of the Integrated Studies program is expected to graduate in 2024. The vision for Integrated Studies is that the graduating class will see an increase in employment opportunities, where individuals are paid above minimum wage, working in an area of interest and receive benefits, with an increase in leadership, independence, and self-determination.
Integrated Studies is currently funded through a five-year, US Department of Education TPSID grant and is in partnership with four other colleges and universities in Pennsylvania. The vision for the institutions is to have 1,000 students with intellectual and developmental disability enrolled across 100 institutions by 2025. This award demonstrates the exemplary work being done at Gwynedd Mercy University as a model program for students with intellectual disability.
Integrated Studies Nomination
Integrated Studies received the award nomination from Ray Bandlow, Professor of Education Policy and Director, Doctoral Studies in Education.
"This program, now in its third year, is deserving of recognition as a model because it serves two fundamental purposes," said Bandlow in his nomination letter. "First, it effectively and efficiently provides access to learning resources and social support for a population of students that previously had few impactful opportunities for higher education. And second, it imparts those students with job-related preparation and soft skills to give them a better chance for obtaining and maintaining employment. Both purposes are critical to allow adults with intellectual disabilities to have agency in their lives, to be self-supporting, and to live independently."
About AAUA
The American Association of University Administrators (AAUA) is a non-profit professional organization designed for individuals who are interested in all areas of higher education management across all sectors of American colleges and universities. Being a member of AAUA allows for professional networking and leadership opportunities. In addition to the large number of members who are administrators at the most senior levels, the AAUA is dedicated to assisting early-career administrators build and enhance their leadership skills.