Voices of Gwynedd to Sing for the Phillies and Travel to Pittsburgh for Their First Tour in Two Years
Play ball, anyone?
The Voices of Gwynedd have been invited to perform for the Philadelphia Phillies on Friday, August 26. The Phillies will be playing the Pittsburgh Pirates, and, coincidentally, the Voices of Gwynedd will be traveling to Pittsburgh in June 2022 for their first Summer Concert Tour in two years.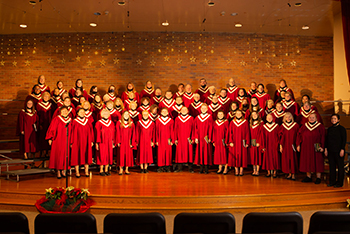 The Voices of Gwynedd will be singing for the Sisters of Mercy in Pittsburgh, where the Sisters first settled in America. Sister Frances Warde and six companies traveled by boat from Ireland to New York, then by train to Philadelphia, and finally by stage coach to Pittsburgh to open the first Mercy Covenant in the U.S. in 1843. The Voices will trace the Mercy connections by touring various sites around fellow Mercy-sponsored school Carlow University and the surrounding Pittsburgh area.
The ensemble will perform at St. Paul's Cathedral during Sunday mass on June 26 and later perform for the Sisters at their motherhouse. After performing, they will tour the Mercy heritage gallery and spend time with the Sisters.
"We are so excited to travel to the place where the Sisters of Mercy first settled in America. We can't wait to share our arrangement of The Circle of Mercy," said Carol Evans, Director of the Voices of Gwynedd.
The Voices of Gwynedd have also been featured on the Stage Accents Instagram page recently. Stage Accents is a national choir gown company and the Voices of Gwynedd have been wearing them for years. In 2019, the group sang int he gowns on top of the Empire State Building and posted a photo on the Voices of Gwynedd Instagram. Recently, Stage Accents saw the post, and are using the picture for their promotional materials.
Please contact Director Carol Evans for more information on the Concert Tour or the Phillies Game at evans.c@gmercyu.edu or vog@gmercyu.edu.
Be sure to check out the Voices of Gwynedd YouTube page below.

https://youtu.be/sYPXJNRVHaM - https://youtu.be/PaRVLFimxK0