Howard Knorr Honored with 2022 School of Arts and Sciences Award for Excellence in Adjunct Teaching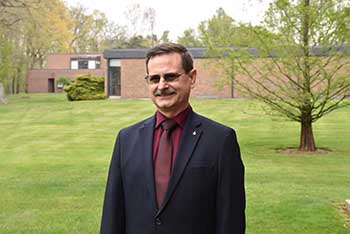 Gwynedd Mercy University Adjunct Professor for Computer Information Science (CIS) Howard Knorr has been selected to receive the 2022 School of Arts and Sciences Award for Excellence in Adjunct Teaching.
"I love teaching at GMercyU because of the smaller, more intimate nature of the campus and the classroom sizes. The smaller size allows me to get to know each student as a person, not just a number in a class, and those relationships have been rewarding over time," Professor Knorr said.
Since 2016, the School of Arts and Sciences sends a survey each spring to undergraduate students to cast their vote for one faculty member who they believe deserves to be recognized for his or her teaching quality, engagement of students, and passion for their discipline. Within the survey, students are encouraged to add comments, which are shared during the award presentation. Additionally, recipients receive a commemorative glass plaque and a monetary award.
Professor Knorr was selected amongst a pool of 77 eligible instructors, and 100 votes were cast in the survey. Students expressed their love for Professor Knorr's real-world examples, his hands-on approach, and his willingness to work with them on an individual basis.
"I am honored to receive this award. It is especially meaningful since it comes from the students," Professor Knorr said, pictured below with his spring 2022 CIS Capstone class after their presentation of their capstone project.
"Howard was instrumental in keeping the CIS Program running during a period when I had no dedicated program coordinator. When Cindy Casey was hired to lead the program, she quickly partnered with Howard to grow CIS. He taught the programming and capstone courses, and in the capstone, he mentors students to complete a project that often benefits non-profit organizations. In addition, Howard accepts CIS students as interns for his company, Noetic Software, Inc., and has hired many of his interns as permanent employees for work on naval contracts at his offices in Willow Grove, Pa. and Patuxent River, Md.," Dean of the School of Arts and Sciences Lisa McGarry, PhD said. "I am delighted that Howard is this year's recipient. He is so well deserving of the recognition."