Sports Management Student to Intern with Philadelphia Flyers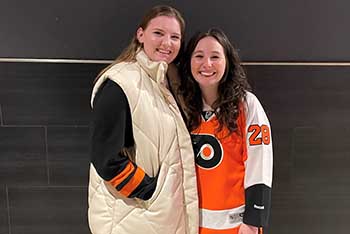 Gwynedd Mercy University Sports Management Senior Carly Jensen recently accepted an internship with the Philadelphia Flyers.
The School of Business and Education recently took a group of Sports Management majors to Sport Management Night at the Wells Fargo Center. That's where Carly heard about the internship during an employer panel.
After attending the event, Carly submitted her resume and cover letter to the Senior Manager of Community Impact. Two days later, Carly had her first round of interviews. The first round consisted of 10-15 students being interviewed, with the top of two-three students moving onto second round interviews with the Vice President of Community Relations and Government Affairs. Carly was chosen as one of the top candidates, and was officially offered the position.
The internship starts on May 9 and lasts through the end of August. Carly's primary responsibilities will be handling donation requests and data logging. Additionally, she'll be helping plan and coordinate community events, including the Community Caravan.
"I'm most excited to be gaining my first experience with a professional team and be working out of the Wells Fargo Center. I'm also excited to work events like the Community Caravan and overall, just being able to work closely with different charities," Carly said.
Learn more about GMercyU's Sports Management program here.