Respiratory Care Program Purchases New State-of-the-Art Ventilator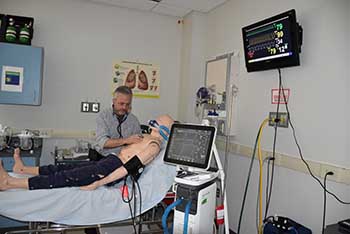 GMercyU's Respiratory Care Program recently purchased a new Servo U ventilator, a model currently used at multiple clinical sites.
Respiratory Care juniors and sophomores will use it in a laboratory setting as well as Interprofessional simulations (IPE). The ventilator was acquired through support from the endowed fund for the Frances M. Maguire School of Nursing and Health Professions.
"This cutting-edge technology better prepares our students for working in the field," said Respiratory Care Professor of Practice and Program Coordinator William (Randy) Solly, MS RRT RPFT. "It bridges the gap between the lab and clinical setting and can provide a seamless transition for our students into the workforce after graduation."
Manufactured by Getinge, the ventilator has the capability to ventilate neonatal to adult patients. It features graphic feedback for monitoring the patient and various ventilator modes to customize weaning.
This article was originally published in the Spring 2022 issue of TODAY magazine.