Academics
Mercy in Action
Poster Presented at AAC&U Conference on Diversity, Equity, and Student Success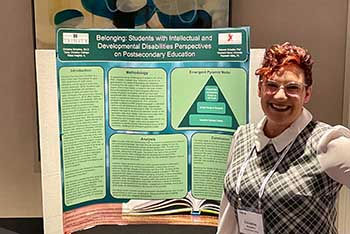 Gwynedd Mercy University's Assistant Dean of Education Deb Schadler, PhD, CPCRT, PRSE and alumna Christine Scholma, EdD '21 recently presented research at The American Association of Colleges and Universities (AAC&U) Conference on Diversity, Equity, and Student Success.
Dr. Schadler served as Dr. Scholma's disseration advisor in GMercyU's EdD program. Dr. Scholma is an Assistant Professor at Trinity Christian College. The pair presented research derived from Dr. Scholma's dissertation on the topic "a sense of belonging for students with intellectual disabilities enrolled in postsecondary education." She conducted her research at a third university.
"I was grateful to have the opportunity to bring the voice of disability to the conversation on diversity, equity, and inclusion (DEI). With the rise in postsecondary programming in the United States for students with intellectual disabilities (ID), it is important that convresations about DEI in higher education consider a variety of minoritized populations, including students with disabilities. I believe that if institutions of higher education are attentive to supporting students with disabilities, it is possible for students with ID to experience a sense of belonging in postsecondary education," Dr. Scholma said.
The AAC&U is an organization dedicated to advancing undergraduate liberal education. Their mission is to make quality and equity the foundations for success in undergraduate education. The conference serves as a platform to learn how institutions can build coalitions and break down silos to create more equitable and just communities. It gives attendees the opportunity to explore "how educators are advancing effective practices, identifying solutions to enduring challenges, and leading change for the common good." https://www.aacu.org/about