School is often the heart of a neighborhood, a place where children are encouraged to learn, play and grow. Lewis Elkin Elementary School in the Kensington neighborhood of Philadelphia now serves as a brightly-colored reminder that school is also a safe reprieve from the surrounding realities.
"One of my goals for the school was to make it look different than our community. There's a lot of depression and need here. I wanted the school to be very bright and welcoming," Elkin's Principal and GMercyU alumna Evelyn Nunez said. "I was very alarmed when I arrived at the school and many of the children were saying they hated school. This is the time you're supposed to love school. I felt like if we didn't make an impact now, we're going to lose them."
The main focus of Evelyn's vision was improving the instructional program, but transforming the exterior was just as important. Evelyn developed partnerships with a variety of organizations, including Lowes and Home Depot, to turn the school into a reflection of her life motto:
Where the love of learning blossoms.
The project turned up a notch when Evelyn received word from The Philadelphia Eagles that Elkin Elementary was chosen as the 2017 recipient of its annual Playground Build initiative. Together with the Philadelphia Mural Arts Project, the aptly-named Eagles at Elkin Elementary now have a brand new playground and turf field to play on as well as a colorful mural wrapped around their school.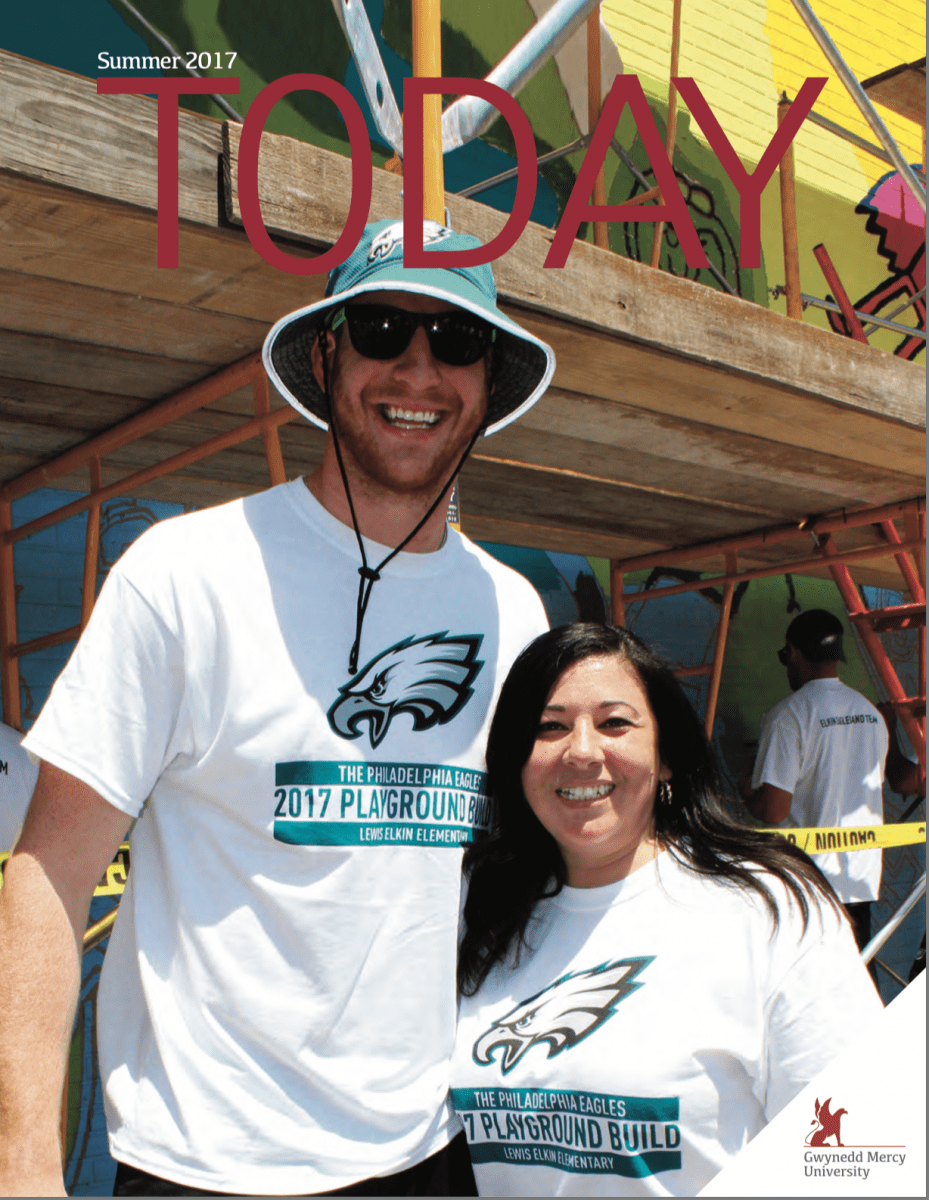 More than 1,000 students, parents, community members and volunteers spent the day transforming the school in mid-May. The highlight of the day came when the entire Philadelphia Eagles team, including Quarterback Carson Wentz and Head Coach Doug Pederson, showed up to do a little painting, autograph signing and, of course, to test out the new turf field with students.
"The mural has a story behind it. It talks about soaring and that's an acronym that stands for being Safe, Orderly, Attentive, and Respectful. They're our core values. We're also the Elkin Eagles. It's almost like a puzzle. It all fit together," Evelyn said.
Evelyn graduated from GMercyU in 2017 with the first cohort of the Doctorate in Educational Leadership (EdD). At Honors Convocation in April, she was awarded the Graduate Student Alumni Award.
She is the youngest of six children, and was the first to graduate college. When she started the EdD program, she was the CEO of a charter school in Camden, N.J. In order to spend more time with her family and focus on her degree, Evelyn joined Elkins Elementary as the principal in 2015.
"After I graduated from college, it caused a shift in my family and today I am pleased to share that a cycle has been broken and everyone in our family has chosen to attend and graduate from college. The family that once consisted of generations of blue collar employees is now full of professionals with bachelor's and master's degrees," Evelyn said.
I am once again not only fulfilling my dream, but serving as a role model for my family and my lovely daughter to prove that with hard work and perseverance you can accomplish anything.
Evelyn has established a strong foundation at Elkin Elementary for the next principal who will lead the school. This summer, Evelyn began her journey as Assistant Superintendent for the Philadelphia School District where she hopes to spread her wings and encourage thousands of students across the city to be ready to S.O.A.R. ❂
*This article was originally published in GMercyU's Summer 2017 TODAY Magazine.