Making an Impact Through Scholarships
Here, generous donors share their stories and what inspired them to support the next generation of Griffins.
Christine Barrasso '65
Creator of The Antoni Malecki Endowed Scholarship for Clinical Laboratory Science Scholarship
The Sisters of Gwynedd-Mercy College made an unforgettable impact on Christine Barrasso '65 MT (ASCP) SBB, MAS as a young student. She reminisces about her time with them (including Sister Mary Gregory, Sister Mary Joan, and Sister Marie Denise), her 39-year career in the Pathology Department at Johns Hopkins Hospital, and how she is paying it forward at GMercyU today. 
The Sisters of Mercy offered me a wonderful education that provided the basis for a successful career. What I gained from Gwynedd Mercy inspired me to include the university in my estate plan so future generations of students can continue to experience an outstanding education and Mercy values.

—Christine Barrasso '65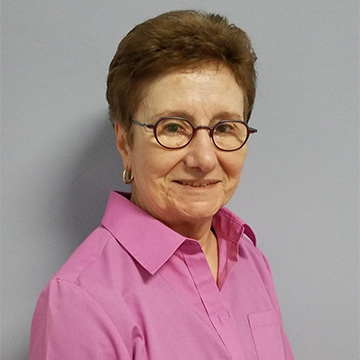 Rosemary Maloney '72
Creator of The Michael John Maloney Johnson Nursing Scholarship Scholarship
Retired nurse and nurse educator Rosemary Maloney '72 PhD, CRNP, ANCC, MA, MSN was inspired by many of the Sisters at Gwynedd-Mercy College, beginning with Sister Fenton Joseph, who enrolled Rosemary and played a key role in Rosemary earning her first graduate degree at no cost. Having dedicated much of her career to studying the relationship between caregiver and patients, Rosemary's scholarship supports future Mercy nurses — compassionate caregivers with outstanding skills.
After 48 years of experience in varied healthcare positions and settings, one can discern "change" is imperative — seeking outcomes in which patient and practitioner are honored in ethical surrounds. 

—Rosemary Maloney '72

Mary Jo Pierantozzi '72
Creator of The Future Teachers of PA Annual Scholarship
Having retired from GMercyU in 2023 after 21 years, Professor Emerita Mary Jo Pierantozzi '72 MS created this scholarship to support future Education majors. The scholarship recipients will be students from a charter or public school in Philadelphia, where Mary Jo taught for so many years before returning to her alma mater as a full-time professor. In GMercyU's Education department, she dedicated the rest of her career to preparing outstanding future educators.
The scholarship is to encourage students from various backgrounds to become teachers. We cry out for that. My hope is that by giving, I am in some small way helping to support current and future students with the opportunity to gain a quality education and carry the Mercy charism into their professional lives. This also is my way of giving back to the college that gave me my profession.

—Mary Jo Pierantozzi '72