Sports Management Career Guide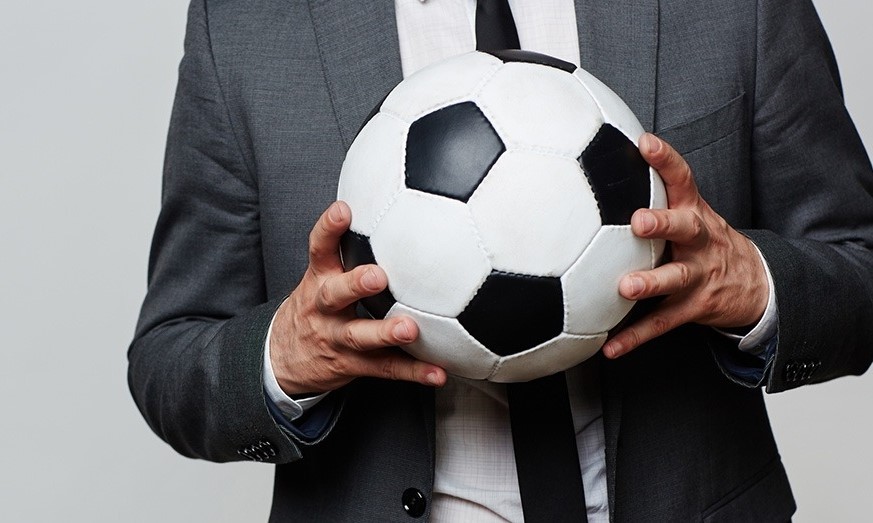 There are more careers in the sports industry than just MVP; in fact, behind each major league team is a whole team of business professionals working to support the players on the field. Sports management is a growing field that offers a broad range of positions for degree seekers who want to be part of the billion dollar industry. If you're looking to get into a career in this field, becoming a sports management major will prepare you for a professional role in sports management. In this guide, you'll learn about what sports management is, different jobs you can get with a sports management degree, the salary expectation of a sports management career and different degree options you can pursue.
What is Sports Management?
What Jobs Can You get with a Degree in Sports Management?
How Much Do Sports Management Professionals Make?
Important Skills for a Career in Sports Management
Sports Management Degree Options

What is Sports Management?
Sports management is the business end of sports, from local community leagues up to professional sports leagues. While it's easy to spot your favorite team on the field, there's a whole network of professionals working behind the scenes to keep things running smoothly.  That's where sports management degrees come in; everyone, from the general manager to the scouting staff to the operations staff, is involved in supporting a team's success. Sports management incorporates different aspects of other industries such as accounting, business, law and marketing depending on the specialty you'd like to pursue a career in.

What Jobs Can You Get with a Degree in Sports Management?
Whether you plan to work in your local community or in the big leagues, there are sports management careers that suit your interests that may require a BS in Sports Management. You can leverage your business interests to work in any concentration you choose. In fact, there are account managers, sales representatives, marketing and communications professionals, and even event planners working together to support the team. Jobs in sports management are thriving! In fact, according to the Bureau of Labor Statistics, there is a positive outlook for jobs with sports management degrees. Below are some sports management career options:

Sports General Manager
Sports General Managers are the people you often see interviewed after a sporting event. They're responsible for hiring coaches and players, contract negotiations, and budgeting. 
Sports General Manager Salary:

 

$122,090
Sports General Manager Degree Requirements:

 

Bachelor's Degree

Sports Agent
Sports agents negotiate players' contracts and handle other business opportunities. As an agent, you could work for more than one player in any number of states, so you'll likely spend a lot of time traveling to meet with your clients and the representatives from the leagues they play in.
Sports Agent Salary

 

$89,590
Sports Agent Degree Requirements:

 

Bachelor's Degree

Sports Account Manager
Sports account managers work to generate sponsorships for their leagues. In this role, you'll work to identify new clients, give sales presentations, and work with clients who wish to advertise in stadiums.
Sports Account Manager Salary:

 

$117,960
Sports Account Manager Degree Requirements:

 

Bachelor's Degree

Sports Marketing Professional
Sports marketing professionals promote the team— or league— in the community. This is done through public relations, hosting community events and appearances, and advertising campaigns.
Sports Marketing Professional Salary:

 

$70,620
Sports Marketing Professional Degree Requirements:

 

Bachelor's Degree

Sports Event Planner
If you've ever been to 80s night at the ballpark or any other theme night, you've seen the work of a sports event planner. These are the folks behind many of the promotional giveaways at stadiums around the country, and who often coordinate the appearances of current and former players at community events.
Sports Event Planner Salary:

 

$52,020
Sports Event Planner Degree Requirements:

 

Bachelor's Degree

Sports Scout
Sports scouts are the employees responsible for finding talent for a team. Often, they follow players from their early years through high school and college and report back to the team's management about any possible leads. Because sporting events usually take place at night or on the weekends, scouts should expect to work irregular hours and to travel often.
Sports Scout:

 

$31,460
Sports Scout Degree Requirements:

 

Bachelor's Degree

Athletic Director
You might associate this role with high school and college sports. The athletic director is responsible for overseeing all aspects of an athletic program, including the budgeting, hiring of coaches, facility management and contact with the league the program is associated with.
Athletic Director Salary:

 

$58,159
Athletic Director Degree Requirements:

 

Bachelor's Degree

How Much Do Sports Management Professionals Make?
The average salary for sports management professionals is $46,000, annually. As you may have noticed, sports management degree salaries can range as widely as the available careers in sports management! Salaries in the field of sports management can also vary based on geographic region.
If you work in Dallas, TX, for example, you can expect to earn more than a sports management professional working in Atlanta. According to the BLS, sports management professionals working in the Washington D.C./ Northern Virginia area earn the highest salary in the nation, at $101,320, followed by professionals in the New York/ New Jersey area who earn $97,750, and professionals in the Los Angeles area who earn $91,880 per year. A sports management salary might also differ based on the league or sport your work for. Cities with robust college and professional sports teams likely have higher-paid sports management professionals.
Check out the chart below that shows some common sports management salaries by career: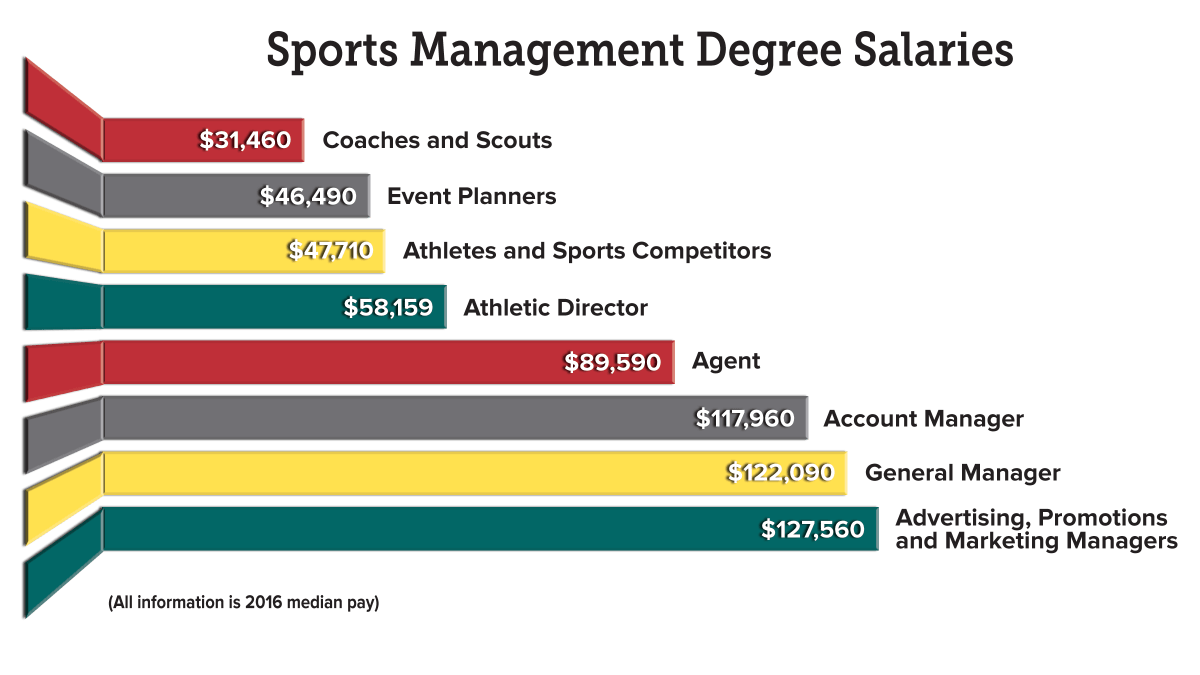 Important Skills for a Career in Sports Management
There are skills that are important to sports management professionals that will help them to have a successful career in this field. Skills like being profficient in communication will help you effectively express ideas with your team while skills in math will help you if you desire a business role in sports management. By combining business classes, marketing classes and ethics classes, Gwynedd Mercy University will help to round out all of these skills in our Sports Management degree program to help you further your career goals.
Listed below are some of the top skills for a sports management professional:
Organizational Skills
Communication
Time Management
Creativity
Multitasking Abilities
Analytical Thinking

Sports Management Degree Options
Whether you plan to work in sports marketing or facility management, most sports management jobs require a good understanding of how businesses operate through obtaining sports management degrees, such as a BS in Sports Management. If you decide to pursue a sports management major, you can expect to learn from a wide array of topics to support your knowledge of sports management. Most bachelor's degree programs, including Gwynedd Mercy University's Bachelor of Science (BS) Degree in Sports Management, include classes in business, marketing, economics, finance, and law.
While a solid foundation in business will be helpful for most careers in sports management, you could also focus on whatever area you're most interested in pursuing. For example, if a career as a sports marketer is what you aspire to, you should become a sports management major while also take public relations and communications courses as well. If you prefer to serve as an athletic director, you might consider taking physical education classes to complement your business curriculum.


Is a Degree in Sports Management Worth it? 
Pursuing a sports management degree can prepare you for a variety of positions in the athletics industry. Depending on what your interests are, you can work in any space you choose. From business operations to event planning, the options are plentiful.
In order to determine if a degree is sports management is worth it, you will have to weigh the pros and cons of the industry. While a sports management degree is an investment, pursuing a career in this industry can result in a high average salary, as seen above. Also, careers in the sports industry involve erratic hours. If you're looking for a more structured schedule, this may not be the right industry for you. However, working non-traditional hours enables you to create your own schedule and possibly have more free time. 
If you have a passion for business and sports, a degree in sports management is the right investment. A bachelor's degree in sports management will set you apart from your peers and put you in the position to succeed in this competitive industry.