Radiation Therapist Job Outlook - Where's the Money At?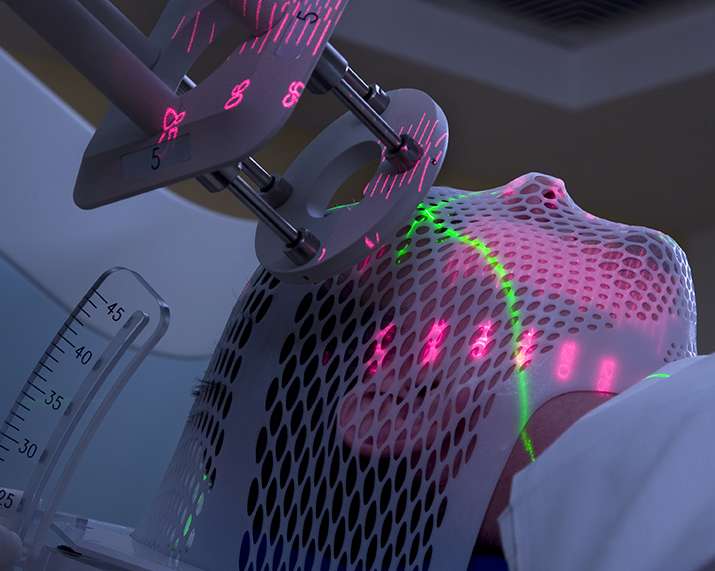 The field of radiation therapy is rapidly growing, changing, and improving. Well-qualified individuals are necessary to facilitate this positive progression and to use their knowledge of radiation therapy to help those in need. To give an effective overview of employment in the field, this article will examine the statistics and trends surrounding the radiation therapist job outlook. 
Radiation Therapy Job Growth
The projected growth rate from 2016-2026 for employment in the field of radiation therapy is 13 percent, according to the Bureau of Labor Statistics. That's nearly double the average growth rate across all occupations. Thousands of positions in the radiation therapy job market will be created in the coming years for individuals with the right training.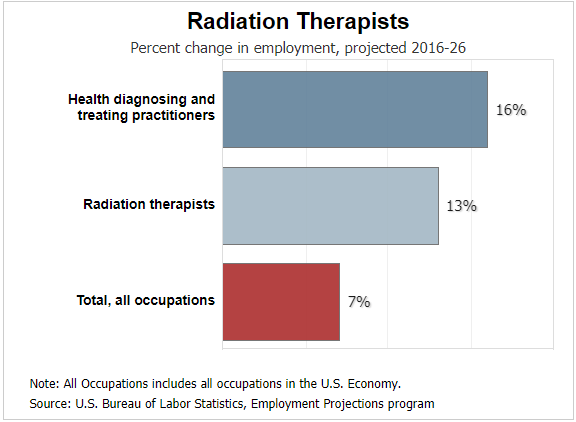 Unlike many other occupations, the minimum qualification to be a radiation therapist is an associate degree. Typically, an associate degree program takes just two years to complete, allowing students to keep their investments of time and money minimal. This gives prospective radiation therapists the opportunity to enter that growing job market as quickly as possible.  

Radiation Therapist Salary Trends
Radiation therapist salaries tend to be highly favorable. The average salary across all occupations in the U.S. is $38,640. The average salary, even for the lowest paid 10% of radiation therapists, is around $56,360. Across all radiation therapists, the average yearly salary is $82,330. Those salaries are very high. They are comparable to the yearly wages of an upper-level executive or a project manager, both of which generally require more educational certification than an associate's degree.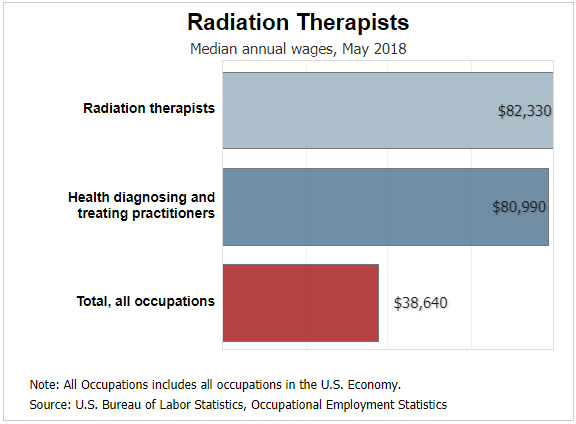 These salaries vary slightly based on a number of factors. All salaries in the field are relatively high, but your employer, education level, and even the geographical state of employment can alter yearly pay.
| | |
| --- | --- |
| Office of Physicians | $82,740 |
| Outpatient Care Centers | $82,580 |
| Hospitals; State, Local, and Private | $82,200 |
As a final general note on salaries in the radiation therapy field, it's important to factor in the schedule of a radiation therapist. Some jobs in the medical field have long, unpredictable hours. That's not the case with radiation therapy. The work carried out by a radiation therapist must be planned well in advance, so his or her schedule would be very standard. These high wages come with normal working hours. 

Highest Paying States for Radiation Therapists
As mentioned earlier, the salary for radiation therapists can be affected by the occupation's geographic location. The variance in median salary is actually very substantial in a few cases. Here are the top five highest paying states and corresponding median salary for radiation therapy:
Radiation Therapist Salary California: $113,710
Radiation Therapist Salary New Jersey: $104,700
Radiation Therapist Salary Oregon: $99,350
Radiation Therapist Salary Florida: $97,710
Radiation Therapist Salary Washington: $97,760
A radiation therapist's salary in California is very high but remember to take into account the cost of living in some of these areas, as well. The relatively average cost of living in New Jersey, Washington, or Oregon would make these high salaries even more effective. Also, while location is very important, be sure to consider possible employers and additional education when trying to improve your earnings. It's a combination of all of these factors that will determine yearly salary.  

Radiation Therapist Hiring Trends
The high job growth rate of radiation therapy is significant and advantageous for prospective radiation therapists, but that is not all that is needed to understand the job market for that field. To paint a clearer picture of the radiation therapist job outlook, it's helpful to know what kinds of employers are looking for radiation therapists and where these opportunities may be. That's essential to establishing a professional end goal. 
The most common place of employment for someone in this field would be a general hospital. Radiation therapists are necessary for carrying out the treatment plans of a hospital's cancer patients. Specialty hospitals, like cancer or treatment centers, employ a large chunk of radiation therapists, as well. Offices of physicians are the second highest volume employer of radiation therapists. Radiation therapists would be needed to help with more long-term treatment plans of a physician's patients. Outpatient care centers are not a high-volume employer of radiation therapists, but it is a viable option for someone in the field.
Universities and other educational institutions may also employ radiation therapists to teach courses on radiation therapy and otherwise educate prospective members of the industry.

States with the Most Radiation Therapist Job Opportunities
As for geographic trends in the employment of radiation therapists, a few are easy to spot. States along the east coast, Texas, and California have the highest concentration of employed radiation therapists. The Midwest shows very sparse employment of radiation therapists, but that is in alignment with population distribution. 
A plentiful radiation therapy job market is going to be where there are lots of people and lots of hospitals to treat those people. These are the five states with the most employment opportunities in radiation therapy:
California
Florida
Illinois
New York
Texas 

Radiation Therapist Education Trends
While it is possible to become a radiation therapist by completing a less intensive certification program, employers vastly prefer that their candidates have at least an associate degree in radiation therapy. It's important to reiterate the practicality of that approach. Individuals would only have to invest in two years of coursework to become certified and sufficiently trained. With the high mean salary associated with radiation therapy, this is a very cost-effective employment plan. Even entry-level jobs in the field pay well compared to the national average yearly salary. 
Earning an associate's degree and going right to work for favorable pay gives individuals the option to complement their primary degree with more advanced degrees and certifications later on in his or her career. These upper-level degrees and more specialized certifications can improve an individual's earning potential and increase their chances of progressing in the industry.  

Why You Should Start Your Radiation Therapy Degree Today
For those interested in entering the radiation therapy field, earning an associate degree is the most efficient path to gainful employment. It requires only two years of coursework, as opposed to the more common, much more expensive four-year undergraduate program. Upon graduation, individuals will be certified and prepared for work in a field with an uncommonly high mean salary. 
According to official projections, the radiation therapy field will be in a state of growth until 2026. Now is the best time to get started on a radiation therapy degree and a professional career. Even with the high growth rate, there will be competition for many of these highly favorable positions. The low barrier to entry that this field has is not usually associated with such a high salary or standard working hours. 
Earning an associate degree or a bachelor's degree in radiation therapy from an accredited university are effective ways to set yourself apart from other applicants and increase your chances of employment.
Gwynedd Mercy University offers our own four-year program that culminates in a Bachelor of Science in Radiation Therapy. The degree is more extensive than an associate degree, but it is a higher qualification. Higher qualifications are generally associated with more employment opportunities and larger starting salaries. GMercyU also offers a specialized 20-month program for individuals who already have their radiographer certification.