Becoming a Radiation Therapist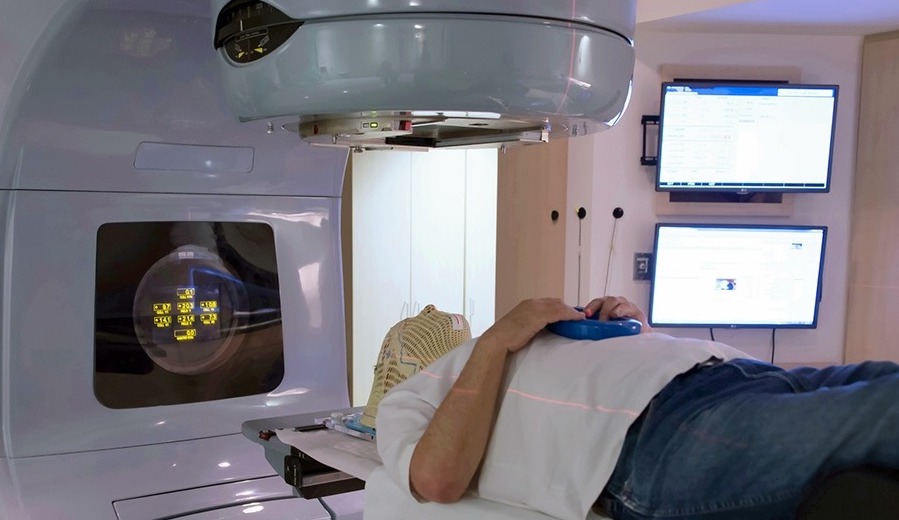 This guide will walk you through how to become a radiation therapist, including the education and skills you'll need to successfully treat patients and help them recover from cancer and other diseases. Here, you'll learn what to expect before beginning your radiation therapy program.

What is a Radiation Therapist?
Duties of a Radiation Therapist
How to Become a Radiation Therapist
Radiation Therapist Role and Education Requirements
Radiation Therapist Skills Needed
Radiation Therapist Salary
Your GMercyU Path to a Degree in Radiation Therapy

What is a Radiation Therapist?
A radiation therapist is a medical professional who administers radiation to patients who have cancer. Radiation therapists are part of an interdisciplinary team of oncologists, medical physicists and oncology nurses who all work together to plan and administer treatments and monitor the condition of patients.

Duties of a Radiation Therapist
Radiation therapists are an essential part of a patient's health care team. Some of the duties and tasks of a radiation therapist include:
Administer prescribed doses of radiation to specific body parts, using radiation therapy equipment according to the Radiation Oncologist's prescription

Position patients for treatment and deliver high doses of ionizing radiation as prescribed

Explain procedures clearly to patients

Operate the machine to treat a patient with radiation

Monitor the patient to check for unusual reactions to the treatment


Keep detailed records of patient's treatment

How to Become a Radiation Therapist
Becoming a radiation therapist takes between two and four years to obtain your desired degree. An associates degree takes two years to complete, and a Bachelor of Science in Radiation Therapy takes four years to complete. While you can become a radiation therapist with only an associates degree, many employers prefer their therapists to have a bachelor's degree in order to be considered for the position.
Decide on a radiation therapy program. Radiation therapist education requirements may vary by state or employer. For example, many hospitals now consider a bachelor's degree to be the minimum standard of education, but other employers might accept an associates degree. Your degree program as a radiation therapy major will likely consist of classroom instruction and hands-on clinical experiences, to prepare you for a career as a radiation therapist.

Get registered. After completing your education, you'll be eligible to sit for the registry exam, offered by the American Registry Radiologic Technologists (ARRT).

Check state requirements. Depending on what state you plan to work in, you may also need to obtain a state license in order to become a radiation therapist. Pennsylvania is currently a state that does not require license exams, but New Jersey is a state that does.

Radiation Therapist Role and Education Requirements
Radiation therapists are part of a dedicated team of health care professionals who all work together to treat cancer and other diseases using radiation. Radiation therapists do more than just administer radiation; they also gather patient data and plan for the treatment.

To ensure cohesion with the team, students interested in a career in radiation therapy should attend an ARRT-certified educational program, to ensure they understand ARRT's ethical standards, protection protocols, and clinical concepts. Upon completion of the program, you'll sit for the state and ARRT licensure examinations.

Radiation Therapist Skills Needed
In addition to the educational background, radiation therapists should be very detail-oriented. It is imperative that the radiation is delivered to exactly the same spot each time. In addition, you'll need to be conscientious of your safety and the patients' safety, since radiation can be dangerous if the proper protocols are not followed. However, your educational program will teach you all the information you need to know to remain safe.

But there are more radiation therapy requirements than just education; radiation therapists should also be personable and able to make patients feel comfortable. Patients may be anxious or nervous about their treatment program, so it is crucial that radiation therapists be able to put them at ease and listen to their concerns.

Radiation Therapist Salary
The demand for radiation therapists has been steadily increasing over the past decade and continues to grow. In 2017, the national median salary for a radiation therapist was $80,570. Job growth for the radiation therapy field is expected to grow 13% in the next 10 years.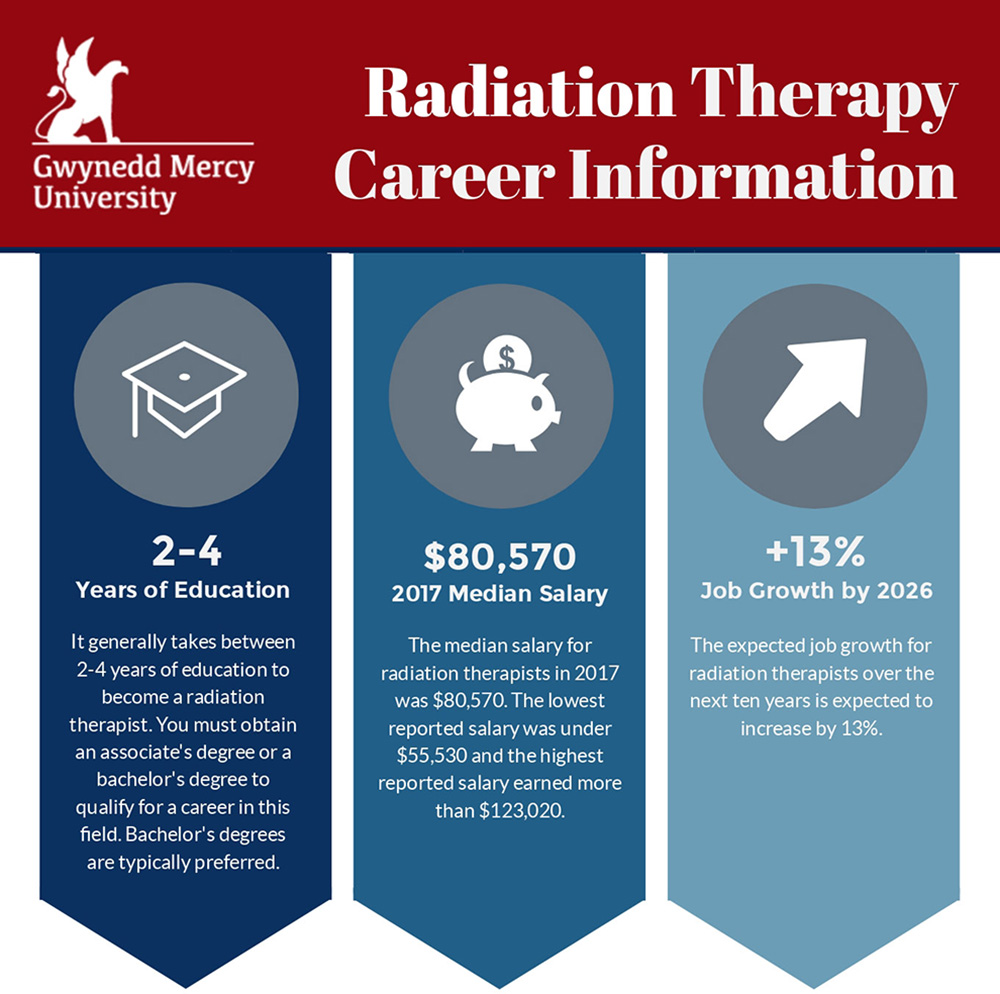 Your GMercyU Path to a Degree in Radiation Therapy
Gwynedd Mercy University's Radiation Therapy program was the first JRCERT-accredited bachelor's degree program in the Philadelphia area. The Associates in Science degree is not offered at Gwynedd Mercy University since the preferred degree is the Bachelor of Science in Radiation Therapy. We have a longstanding tradition of educating Radiation Therapists who treat patients with dignity and respect. Students in the program will have at least three clinical placements, ensuring they are well prepared for a career in radiation therapy.