Computer Forensics Career Guide: Bridging Criminal Justice and CIS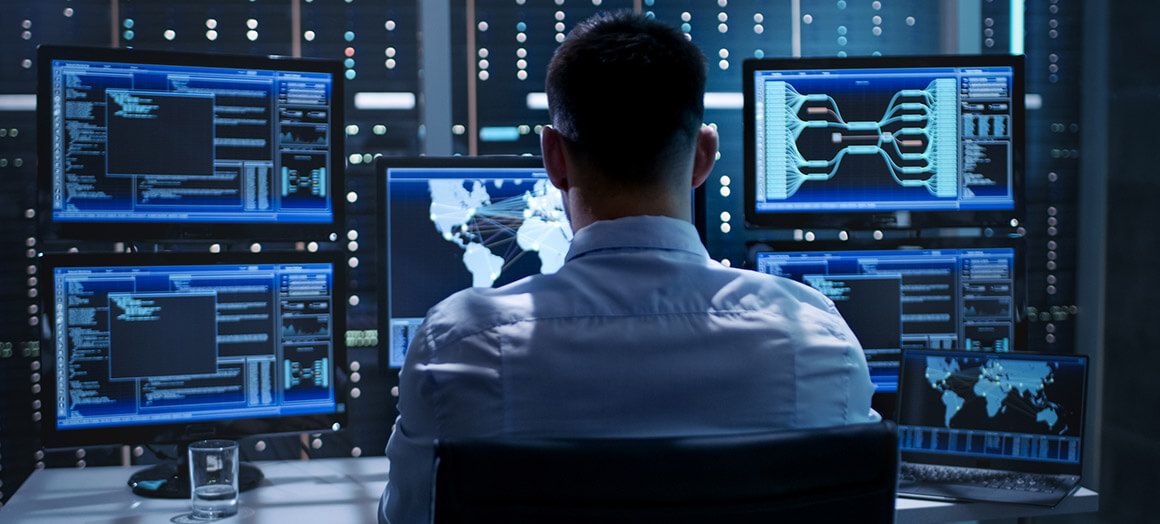 There's a familiar plot that plays out in crime dramas like CSI: a bad guy has hacked into a computer network, spread a sophisticated computer virus, or conducted illegal business online while seemingly covering his tracks. In comes the hero investigator, hunched over a computer. A few keystrokes and an hour later, the crime is solved and the criminal is caught.

While Hollywood's depiction of computer forensics makes for compelling entertainment, the reality of this relatively new field is perhaps less exhilarating but nonetheless extremely rewarding. In the real world, computer forensics professionals may dedicate weeks, months, or even years to carefully extracting and recovering digital data used as critical evidence to solve crimes. Their work requires not only the technical skills to navigate emerging technologies, but unwavering patience and careful attention to detail, all in an effort to keep their community—and the world—safe.

From network hacking and financial scams, to identity thieves and online child predators—cyberattacks of all kinds are a serious threat that is only on the rise. If computer forensics sounds like an exciting career for you, then read on to learn what it takes to become a part of this fast-growing and ever-evolving field by becoming a CIS major.
What is Computer Forensics?
Career Options and Salaries for Computer Forensics Concentrations
How to Become a Computer Forensics Investigator
Common Skills Needed for a Career in Computer Forensics
Is Computer Forensics Right for Me?

What is Computer Forensics?
Computer forensics, also known as cyber forensics or digital forensics, is the investigation of digital data gathered as evidence in criminal cases. Law enforcement agencies and private firms fight cybercrime using computer forensics to track, locate and extract digital information needed for criminal investigations.

Computer forensics specialists search hard drives to uncover deleted or hidden files using file recovery programs and encryption decoding software. In addition to computers, these forensics specialists are also adept at gathering pertinent information from network servers, databases, smartphones, tablets, and other digital devices.

Why Study Computer Forensics?
Computer forensics has become an increasingly popular field over the years. The computer forensics industry is predicted to grow by 17% between 2016-2026, according to the Bureau of Labor Statistics. Due to higher caseloads, state and local government are predicted to hire additional computer forensic science technicians in order to keep up with the demand. In-depth media coverage of local and national criminal cases/data breaches, along with the popularity of forensic television shows, aide in more public awareness around the importance of computer forensic science.

Also, with the speed of advancing technology in today's society, computer forensic science technician profession will be in demand to keep up with the constantly changing landscape. Across all industries, technology continues to drive the future of the world economy. Computer forensic science is becoming more popular across all fields in order to identify computer crimes or protecting data.

Career Options and Salaries for Computer Forensics Concentrations
Computer forensics jobs can take on a variety of titles and responsibilities. Also, a computer forensics salary can vary depending on the specialty they work in. Below is information regarding current related job titles, salaries, expected job growth and additional details about each corresponding computer forensics job description.
| | | | |
| --- | --- | --- | --- |
| Job Title | Job Description | Average Salary | Career Growth |
| Information Security Analysts | Plan and execute security measures to protect an organization's computer networks and systems. | $95,510 | 28% (much faster than average) |
| Computer Systems Analysts | Computer Systems Analysts study an organization's computer systems and procedures, and design solutions to help the organization operate more efficiently and effectively. | $88,270 | 9% (as fast as average) |
| Malware Analyst | Detect, analyze and report cyber threats. Must know programming languages and data recovery techniques. | $88,898 | 9% (as fast as average) |
| Information Technology Auditor | Audit networking systems to detect security weaknesses, evaluate risks and recommend improvements to systems for internet safety. | $64,772 | 28% (faster than average) |
| Forensic Computer Analyst | Assist law enforcement officers with cyber crimes to retrieve data from computers and storage devices. | $85,800 | 21% (faster than average) |
| Security Consultant | Build a security infrastructure to protect companies from cyber threats, proficient in multiple programming languages, communicate risks/procedures with others. | $85,667 | 28% (faster than average) |

Information Security Analysts
Average Salary: $95,510
Information security analysts are responsible for planning and executing security measures to protect networking systems, computer systems, and essential data. The most common places of employment for information security analysts are governments, healthcare networks, commercials banks and financial institutions. This field is expected to grow by 28% between 2016 and 2026, which is much faster than the national average for all jobs.
Computer Systems Analysts
Average Salary: $88,270
A computer systems analyst essentially assists a company use technology in the most efficient way possible. Through research and extensive evaluation, they determine what software could help a company operate more smoothly and what software would be a hindrance. Another key role computer system analysts play is in training company workers in how to use the software and troubleshoot any issues they might have.
Malware Analyst
Average Salary: $88,898
A malware analyst is an expert at identifying cyber threats, such as worms, bots, and trojan viruses, in order to protect a company's data. Some responsibilities of a malware analyst include examining a cyber attack and reverse-engineering the damage it has done. Some malware analysts may be tasked with developing prevention protocols to block future malware attacks.
Information Technology Auditor
Average Salary: $64,772
An information technology auditor is responsible for examining a company's infrastructure and determining security weaknesses in order to develop and prevent any cyber attacks from happening. Creating security plans are essential to this position, as well as working within a security team and communicating strategies with co-workers.
Forensic Computer Analyst
Average Salary: $85,800
A forensic computer analyst often assists law enforcement in cyber crimes by evaluating an illegal cyber attack. They must be able to collect information from the crime scene and extract data in order to provide information regarding what type of cyber attack occurred, who carried out the attack and what data was taken.
Security Consultant
Average Salary: $85,667
A security consultant is an expert at preventing cybersecurity threats by protecting network systems and computer systems from different types of malicious malware. Normal duties of a security consultant include installing and updating software to fit within the security plan, testing security solutions in advance of any attack and communicating developments within the company.

How to Become a Computer Forensics Investigator
Computer forensic investigators typically must earn a bachelor's degree in criminal justice or another similar area such as computer science. Some computer forensics professionals begin their careers in related areas such as law enforcement and combine their experience with a computer forensics training program and professional certification. Through these basic steps, Here are the recommended steps to beginning a career in computer forensics:

Step 1: Earn Your Digital Computer Forensics Degree
A bachelor's degree in computer forensics or a similar area is generally required to become a computer forensics investigator. This degree will provide you with a foundation in investigation and computer use, emerging technologies, and techniques used in the industry. Along with professional experience, earning a master's degree can further advance your career and open doors to senior positions in the government or private sector.
Step 2: Get Certified as a Computer Forensics Specialist
There are many different types of certifications available for computer forensics specialists. Focused either on best practices in a particular concentration or specific software used in the industry, completion of a certification ensures that you have a firm grasp of the ethical and legal issues of the field, industry know-how and current tools. While certification is not a requirement for all positions, job applicants are looked upon more favorably when they have earned their certification.

Here are some of the most common certifications*:
Vendor-neutral certification (covering best practices in a specific area)
Certified Forensic Computer Examiner (CFCE) – offered by The International Association of Computer Investigative Specialists
Certified Computer Examiner (CCE) – offered by The International Society of Forensic Computer Examiners
Global Information Assurance Certification (GIAC) – offered by The SysAdmin Audit, Network, Security (SANS) Institute
Vendor-specific certification (covering specialized training in a specific developer's software platforms)
EnCase Certified Engineer (EnCE) – offered by Guidance Software
AccessData Certified Examiner (ACE) – offered by AccessData
Aside from certifications, there are also training courses and programs available for further professional development through organizations such as the National Institute of Justice and the National Computer Forensics Institute. It is also important to note that some states require computer forensics investigators to obtain a private investigator license and requirements for this license varies by state.
Step 3: Find Your First Job
Computer forensics positions can be found at local, state, and federal government agencies, from city police departments to the National Security Agency (NSA), Homeland Security and the FBI (the lead federal agency for investigating cyber attacks by criminals, overseas adversaries and terrorists).* Computer forensics positions, such as a forensic computer analyst, can also be found in the private sector on a full-time or contractual basis at places such as banks, software development companies, law firms, and accounting firms.
Step 4: Advance with Experience
With years of professional experience and knowledge, computer forensics investigators can advance their career (and their salary) by becoming a senior forensics investigator or starting their own private practice or consulting agency where they can support a variety of clients.

Common Skills Needed for a Career in Computer Forensics
Knowledge of Various Technology
Digital Storage Devices
Computer Operating Systems
Computer Programming
Malware Types
Ethical Issues regarding Data
Legal Issues regarding Data
Ability to learn new things
Analytical Thinking
Critical Thinking
Communication Skills
Problem-solving Skills

Is Computer Forensics Right for Me?
Computer forensics is an ever-evolving field. New challenges arise for computer forensics investigators as cybercrimes grow in frequency and complexity, and hardware and software advances. Computer forensics can be a stressful field, as you often need to find information quickly for a criminal investigation and criminals can be highly skilled at technology. On the other hand, a computer forensics career is in a top growing field that has many diverse employment opportunities. Some of these digital forensics jobs include becoming a forensic computer analyst or a cyber forensic investigator.

If you're someone who would like to put your technology skills toward keeping the public safe, then a rewarding career in forensic computing is for you. The first step? A bachelor's degree in criminal justice or computer science from GMercyU!