What Careers Can You Pursue with a Finance Degree?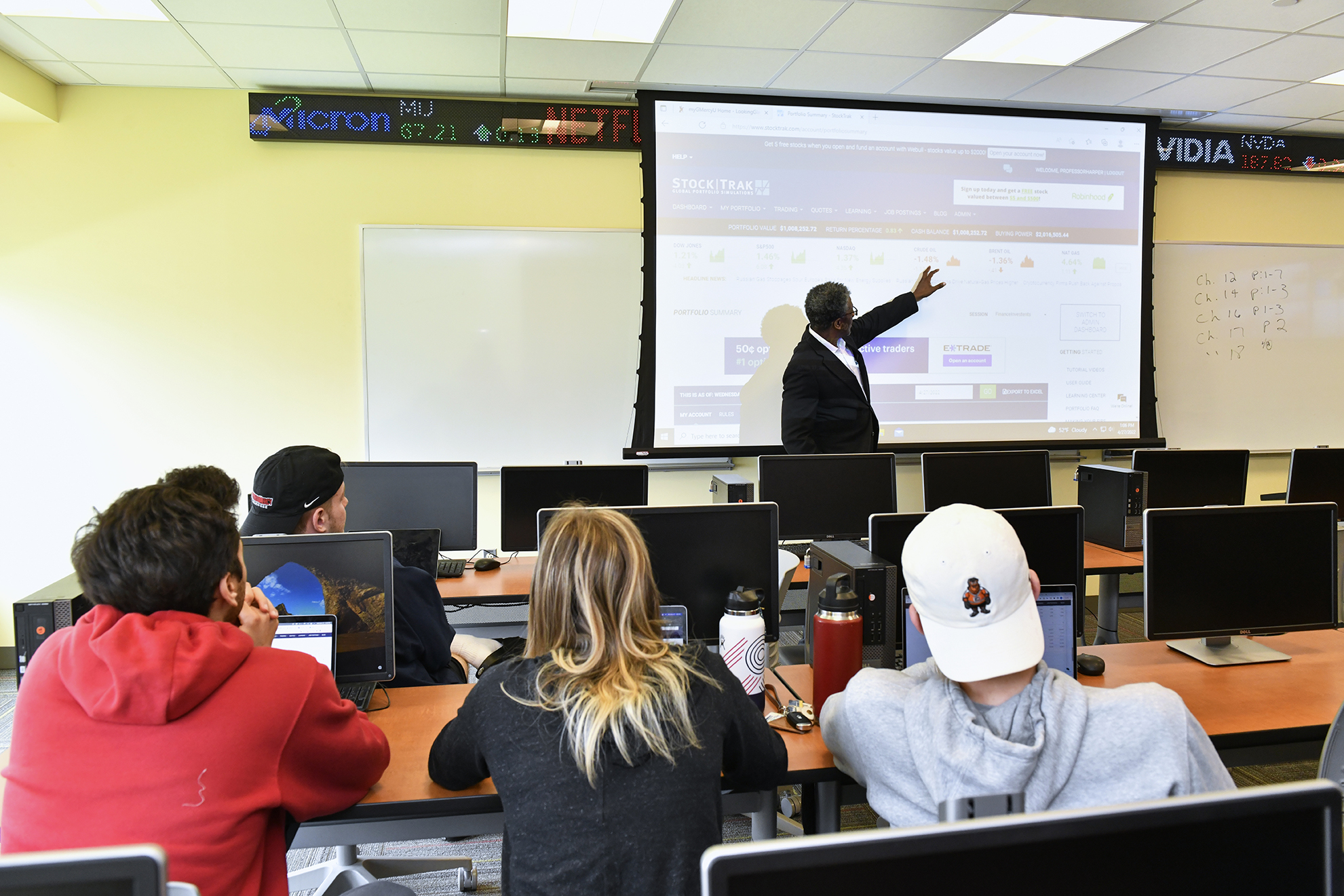 When it comes to careers in finance, there are myriad options that only increase as you gain more education and on-the-job experience. In the field of finance, there are three main categories of the industry: public, corporate, and personal. From financial planning to investment banking to insurance, people who pursue careers in finance power the world. Pursuing a bachelor of science in finance is the first step to unlocking your finance career potential. In this article, we will discuss the different types of finance degrees, careers in finance, corresponding salaries, and skills for finance majors.

Types of Finance Degrees
Careers in Finance
Salaries for Finance Jobs
Skills for Finance Majors
Finance Degree and Career FAQs

Types of Finance Degrees
In the finance world, there are various levels of degrees you can choose depending on your specific interests. So you may be wondering, what can you do with a finance degree? A bachelor's degree in finance will prepare you for entry-level work in the finance field, whereas a master's degree in finance or a doctorate degree in finance will make you better suited for management or instructor roles in this field. Listed below are the three main types of finance degrees you can pursue:

Bachelor's Degree in Finance
A bachelor's degree in finance is usually the most common requirement to pursue a career in finance. This degree takes four years to complete and prepares you with the basic fundamentals you will need as a finance professional. While a bachelors degree in finance will build upon your finance skills, you will also be taught leadership and communication skills to fully round out your abilities.

Why Get a Bachelor's Degree in Finance:
For many entry-level positions in the finance world, a bachelor's degree in finance (or a similar business degree) is required to even be considered. A bachelor's degree will prepare you with the basic foundation you will need in order to succeed in a finance career. Obtaining your bachelor's degree in finance also allows you to further your education to advance your career later on if you choose to do so.

Master's Degree in Finance
After completing a bachelor's degree in finance, you are qualified to pursue a master's degree in finance. This degree takes two years to complete and expands upon the fundamentals of finance by focusing on specialized areas of finance.

Why Get a Master's Degree in Finance:
If you really want an advantage on your competition in the finance job market, a master's degree in finance will set you apart from your bachelor's degree counterparts. A master's degree in finance will better prepare you specific areas within the finance field such as trading, investments or risk management positions.

Doctorate Degree in Finance
A doctorate degree in finance allows you to become a financial researcher and/or financial instructor, as well as allow you to be qualified for almost any position in the financial world. A doctorate degree in finance takes an additional four to five years to complete, after obtaining your bachelor's and master's degrees. Most doctorate degree graduates in finance will continue on to make an annual salary of over $180,000 in the professional world.

Why Get a Doctorate Degree in Finance:
If you are seeking an instructional or research-based position in finance, a doctorate degree in finance will best serve you. While you will be prepared for any role within the finance field, many who choose to pursue a doctorate degree in finance are interested in selective research or instructional roles.

Careers in Finance
Careers in finance are often a popular choice in that they can offer a high paying position shortly after completing your degree. The different opportunities for working within the finance field are vast, with a multitude of specialties to choose from. Depending on your level of education and specific interests, there is a finance career for you.

Commercial Banking
Commercial Banking Average Salary: $92,983
A career in commercial banking provides a variety of financial services such as savings accounts, checking accounts and multiple loan options. There is a lot of room for growth within commercial banking as many begin their careers as bank tellers and move up to become branch managers.
Investment Banking
Investment Banking Average Salary: $96,543
Investment banking is a high-intensity field that involves selling and trading corporate securities, as well as provides insightful advice to corporations and individuals. Responsibilities of an investment banker may also include trading stocks and bonds on the stock market.
Financial Planner
Financial Planner Average Salary: $61,830
A financial planner works with clients to create plans that ensure an individual's current and future finances are in order. They discuss strategies for investing and savings in order to reach a client's goal. Typically, financial planners work within a local or national firm and should look into obtaining the Certified Financial Planner (CFP) certification.
Insurance Agent
Insurance Agent Average Salary: $37,667
Working within the insurance field allows you to explore many different aspects of finance within one occupation. You can work as an insurance sales representative, a customer service specialist or you can work to calculate risks and probabilities of financial trends to help your clients with their financial objectives.
Public Accounting
Public Accounting Average Salary: $63,907
Another diverse career for an accounting major is public accounting. A public accountant works with both individual clients and corporations to maintain their financial transactions, audit their records and prepare income tax returns. Typically, a public accountant may work in small or large firms depending on their clientele.
Hedge Fund Manager
Hedge Fund Manager Average Salary: $70,000
Unregulated private investment funds are typically described as hedge funds. Working with the type of investment provides an array of possible jobs ranging from financial traders, analysts, compliance officers, and portfolio managers.
Venture Capitalist
Venture Capitalist Average Salary: $92,406
A career in venture capital explores the potential expansion of financial opportunities for small or start-up companies. As a venture capitalist, you will determine if your firm will make an investment in these types of companies in hopes that their stock will become publically traded on the stock market.
Real Estate Agent
Real Estate Agent Average Salary: $59,180
Commercial and residential real estate financial careers work with clients to plan out the best strategy to fund the purchase of a family home, office location or shopping center. Some potential job paths for financial real estate include mortgage brokers, mortgage companies and life insurance professionals.
Chief Financial Officer
Chief Financial Officer Average Salary: $128,468
A chief financial officer (CFO) is responsible for tracking profits and deficits of a company, then developing a strategy to maintain successful financially. One key aspect of a chief financial officer is their managerial skills and often oversees a team of employees.

Salaries for Finance Jobs
One of the most popular aspects about entering into the finance world is the ability to obtain a job quickly, depending on your degree, and receiving a high-paying salary. Depending on the position within the finance field you choose, your salary will differ. Listed below are some finance jobs and their average salaries:
| | |
| --- | --- |
| Finance Job Title | Average Salary |
| Commercial Banking | $92,983 |
| Investment Banking | $96,543 |
| Financial Planner | $61,830 |
| Insurance Agent | $37,667 |
| Public Accounting | $63,907 |
| Hedge Funds Manager | $70,000 |
| Venture Capitalist | $92,406 |
| Real Estate Agent | $59,180 |
| Chief Financial Officer | $128,468 |

Skills for Finance Majors
While studying for your degree, finance courses will provide you with a solid knowledge of financial insight, technology, and interpersonal skills that are essential for success in the job market. An understanding of the different types of financial environments will also play a crucial part in determining where you would like to focus your financial career. Below are the top 10 that are vital in the finance industry.
Accounting Qualifications/Certifications

Interpersonal Skills

Management Skills

Communication Skills

Strong Problem Solving Skills

Financial Forecast Reporting

Analytics Capabilities

Software Skills

Business Savvy


Innovative Skills

Finance Degree and Career FAQs

What is the difference between accounting and finance?
Accounting and finance differ in the specific aspect of the financial scope of their work. The accounting field deals with the more granular financial transactions that occur on a daily basis, while finance focuses on broader investment management over time. Someone in the accounting field typically works with audits, taxes, and budgets on a constant basis and continues to provide exact numbers to report on the evolving success of their business. A person in the finance field focuses on stocks and bonds and determines good investment strategies to ensure that their finances grow with the everchanging market.
Can you get a CPA with a finance degree?
Yes, you can get a CPA with a finance degree. In order to sit for the CPA exam, you will need to have completed a bachelor's degree in accounting or another business related field. A bachelor's degree in finance will qualify you to sit for the CPA exam.
How long does it take to get a degree in finance?
It takes 4 years to get a bachelor's degree in finance since it is an undergraduate degree.
Is finance a BA or BS?
A finance degree is a BS or a bachelor's of science degree.

Your GMercyU Path to a Degree in Finance
Our bachelor of science in finance business degree will prepare you for today's ever-evolving marketplace by helping you develop specialized finance skills, while also building your communication and leadership abilities. Careers for finance majors are on the rise, and GMercyU's degree in finance can help you land a job in this dynamic field.

As a student in GMercyU's bachelor of science in finance degree, you will have access to GMercyU's well-rounded business program where you will learn about money management ranging from both business and personal finances, as well as how to navigate the stock market through understanding the use of stocks and bonds.

The BS in finance program at GMercyU is accredited through the International Accreditation Council for Business Education (IACBE) and offers a number of specialty areas including investments, risk management, sports business finance, and taxation.


4+1 MBA Option
For students with a GPA of 3.0 or higher, GMercyU offers a unique 4+1 MBA option that allows you to earn both a bachelor of science degree in finance and a master's degree in business administration (MBA) in just five years.

Visit GMercyU's Bachelor of Science in Finance page for more information.