How to Become a Product Manager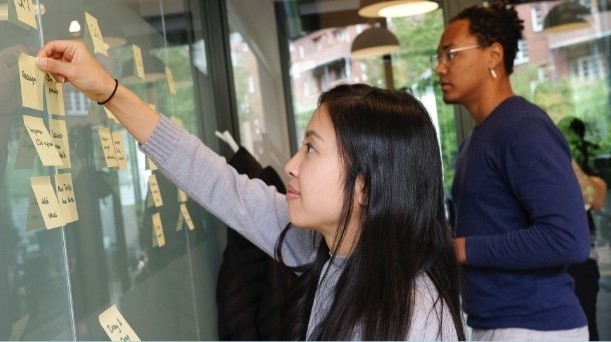 Product managers are responsible for the entire promotional life cycle of a product or service. They work collaboratively with cross-functional teams to ensure deadlines are met and launches run smoothly. If you are considering becoming a product manager, this article can help answer the following:
If you would like more information on becoming a product manager or are interested in the online MBA Programs or online MBA Certification Programs offered by Gwynedd Mercy University, call 215-641-5510 to request more information.
 
What Is a Product Manager?
A product manager (PM) is a professional charged with overseeing the development of products for an organization. Product managers own the business strategy behind a product, define its functional requirements, manage the launch of features, and oversee the team responsible for product-related tasks.
 
What Does a Product Manager Do?
The product manager defines a project's scope and identifies deliverables for the rest of the development teams. They're responsible for outlining a product vision and creating an actionable strategy for bringing it to production. It's their job to coordinate each team and lead them from initial planning to the final product release.
Product managers are responsible for evaluating product quality at every juncture of product creation, from the idea phase through customer reception. They juggle a wide variety of tasks to ensure the products can go to market smoothly.
The day-to-day responsibilities of a product manager can include:
Market research:

 

PMs identify customers' needs and gauge how consumers will react to product releases through market research.
Product optimization:

 

PMs help oversee testing phases of product development and track consumer response to product updates.
Strategic planning:

 

PMs develop a strategy and manage a workflow that will govern how products are created and distributed.
Determine product pricing:

 

PMs combine data on production costs, marketing spend, customer opinion, product-market valuation, competitor products, and other factors to help organizations land on an ideal price for a product.
Team leader:

 

PMs oversee the day-to-day management of staff responsible for product creation and distribution.
Keep key stakeholders in the loop:

 

PMs brief investors and executive leadership on the status of their projects. Briefing usually includes updates on product successes, shortcomings, optimizations and milestones reached.
Data analysis:

 

PMs measure key performance indicators (KPIs) and market interest in related goods, then recommend how to distribute organizational resources to support products post-launch, e.g., marketing spend, and to determine future products.
 
Skills Needed to Become a Product Manager
The most successful product managers often possess the following qualities:
Savvy organizer and time manager: PMs oversee all the moving pieces involved with product development, so they must have the ability to keep track of various tasks and understand how smaller tasks feed into the big picture.
Creative problem-solver: Murphy's Law dictates that if anything can go wrong, it will. And it does. Developer delays, reprioritization of tasks due to designers being pulled into other projects, and other obstacles demand that PMs be agile thinkers who can implement creative solutions to keep projects on time and on budget.
Great communicator: PMs interact with personalities from across their organization. They need the ability to actively listen and consider different points of view so all team members feel valued and all stakeholders are on the same page.
Master of to-the-point presentations: PMs organize data into user-friendly reports that convey accurate product reception metrics. They also present relevant data to interested stakeholders.
Asset manager: Just because an organization can do something doesn't mean it should. Because PMs have the operational knowledge of what it takes to bring a product to market, they are often tasked with briefing leadership on the financial requirements and human capital involved in creating a new product.
Champion of brand voice: PMs have to know when a piece of creative is veering away from their organization's brand identity. To do this, PMs need to understand their organization's narrative and be able to see how a product or piece of marketing fits within that framework across different marketing channels.
 
Steps to Becoming a Product Manager
There is no one set path to becoming a product manager. Many product managers foster experience in other positions and acquire an advanced degree before making the move to manager. Others begin in coordinator roles and work their way up inside an organization on a defined track to team management. Though there is no set path, many PM's journeys look something like this.
Step #1: Complete a bachelor's degree
Earning a bachelor's degree in business management or a closely related field will help you build a strong foundation in operations and help you lay the foundation that will allow you to excel as a product manager.
Step #2: Get some real-world experience
With an undergraduate degree in hand, you'll be ready to step into entry-level business and product roles. Gaining experience in your field will help you develop real-world knowledge of how organizations operate. As you progress in your career, make sure to volunteer for management tasks and work on developing a reputation for handling challenging problems, conducting research and working in cross-functional teams.
Step #3: Power up your credentials with an MBA
Though not required to work as a product manager, adding a master's in business administration (MBA) to your credentials can seriously improve your career prospects and boost your earning power.
Many product managers often complete an MBA, like the Online Accelerated MBA Program offered by GMercyU. Master's programs provide necessary education used daily by product managers. In MBA programs, aspiring product managers develop an in-depth understanding of the core business functions that contribute to a company's long-term success.
Step #4: Apply for product management roles
When you're ready to take on the added responsibility of product management, you can start applying for open positions. Reach out to your network, speak with HR and your supervisor inside your current company, and hit the job boards.
Step #5: Continue learning
To be a good PM, you need to understand the technical aspects of your field and be willing to put the time in to stay abreast of the changing landscape of the marketplace. Continuing your education by completing programs like GMercyU's Online MBA Certificate Program can help you grow as a professional and increase your earning power.

Start a Career in Project Management with GMercyU!
We hope this article answered your questions about pursuing a career as a product manager. If you have more questions or are interested in taking the next steps in your professional journey by earning your MBA or completing an Online MBA Certificate Program, don't hesitate to reach out by calling 215-641-5510 to request more information.