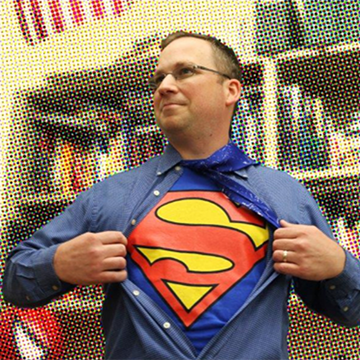 Current Position: History Teacher at Wissahickon High School
Story Last Updated: June 2017
Current Position Updated: March 2019

Spiderman, Wonder Woman, and the Hulk aren't the typical heroes found in history classes, but Wissahickon High School teacher and Gwynedd Mercy University alum Tim Smyth '08 isn't your typical teacher.

Once known only for his challenging and difficult classes, Smyth has now transformed his classroom into a fantasyland full of superheroes and action figures. For the past few years, Smyth has used comic books to teach his students everything from the American Civil War to the #BlackLivesMatter movement.

"It lets students think in a different way. It's not, 'Memorize this,' or 'Memorize that.' Comic books come out every week or two weeks so they can immediately change the storyline to reflect what's going on," Smyth said.
From Classroom to Comic Con
Smyth's unique teaching style was highlighted on PBS and several other media outlets which led him to giving a presentation at Philadelphia's Comic Con. In July 2016, Smyth and his family traveled across the country after he received an invitation of a lifetime: a chance to speak at Comic Con International in San Diego on using comics in education.

While it all seemed to happen overnight, Smyth's passion for comic books spans decades. His love as a kid turned into a subject for his thesis while studying for his Reading Specialist Certification at GMercyU. After the topic "boys don't like to read" was discussed in class, Smyth knew there was a way to change the misconception.

"I remember asking 'Well, what are you giving them to read? Yeah, I don't like to read that stuff either'," Smyth said. "How about reading the sports pages? Is that reading? Then we started talking about comic books and graphic novels."

Smyth credits the professors for encouraging him to pursue the topic for his thesis presentation.

"I didn't realize until later how much assurance I was given. I don't think I ever would have included comics in my teaching without this support," Smyth said.
GMercyU gave me the push I needed and I now encourage my own students to research their passions as a result.
Smyth slowly started to integrate his findings into his classroom, not wanting to deviate too quickly from his "Type A" teaching style. One of the moments Smyth knew he was onto something was when a student who barely spoke in class came up to him after learning about Spiderman's recent transition from Peter Parker to Miles Morales, an African American superhero.

"When I went to the comic book store, I would bring him the new edition and we would talk about it. This is a kid that I couldn't get more than two words out of then all of a sudden we were talking about this. Comic books opened the door for us. It was validation," Smyth said.
From Comics to History Lessons
What started out as a way to connect with students and open them up to the world of reading has become a way to teach them about not just history, but current social issues. Smyth's success has shown him that it's OK to be different and stray away from the norm - just as the characters in the comic books show his students.

"You do need to share what you do," Smyth said. "Whether it's comic books, hip hop, sports, whatever your hook or passion is, you bring it into your classroom and the kids know it. It has an impact on them."

You can keep up with Smyth's classroom adventures by following him on Twitter @historycomics.