Storm Gehrke
Criminal Justice, Accounting 2017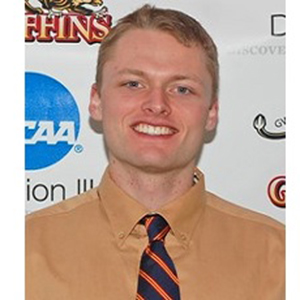 Current Position: Police Officer in Seattle
Story Last Updated: April 2017
Current Position Updated: April 2017

I was looking at a few different schools and I had to fly out to look at all of them. The other schools I was looking at were in more of an urban setting and so when I saw the campus here, it was a little more what I was looking for. So, it was the setting first and then the availability of the courses and programs I was looking for like accounting and criminal justice. Having the opportunity to play lacrosse was also another factor.

I decided to study both accounting and criminal justice because originally I wanted to go into something with the federal government. After seeing what the options were and having an internship, I realized that didn't really interest me as much as other things. I worked back home at a police department and I was on the marine patrol unit. We drove the police boats around and if people are breaking the law in the water they had to talk to us. It was a pretty unique experience and how I got my feet wet with law enforcement.

Professors in both accounting and criminal justice are passionate about what they teach and it really helps students learn and progress. My two favorite professors in accounting are Mr. Silvesti and Mr. Mumford because they each have a unique way of teaching and have lively discussions in class. Professor Z and Doc have been in the field for many years and definitely know what they're talking about. It's different going from accounting with numbers and business theory to juvenile delinquency and criminal law. It's definitely an opposite direction but it's interesting to look at the world from two different viewpoints.

The main reason I came to GMercyU for lacrosse is because after visiting other schools, the real sense of family and brotherhood with Griffins Lacrosse is what brought me here. Nobody was talking bad about one another or talking behind anyone's back. It was definitely a real brotherhood. Being a freshman, I saw that and throughout the years I worked hard in school and on the field. It progressed from me being a little freshman to captain on the team.
Being a captain you get to help the other guys develop and see where the future of the program is leading and where we came from. It's a unique experience.
After graduation, I'm lucky enough to have a job in the law enforcement field. I'll be a police officer back home near Seattle and that's something that happened mainly through the internships I had, working hard at school and being a team player. All of the factors that GMercyU has taught me throughout my four years here have led to this opportunity to have a career in the field I want.

The main thing about being a Distinctive Mercy Graduate, for me, is rather than looking out for yourself and what you're doing, you look out for others too. Everyone out there is looking to bring home the big paycheck or be successful in their field but you can only succeed when you decide to apply what you learned and all of the things you were taught at GMercyU to help others. It's only up from here if you decided to not only help yourself but others along the way.