Morgan Robertson, RRT
Respiratory Care 2022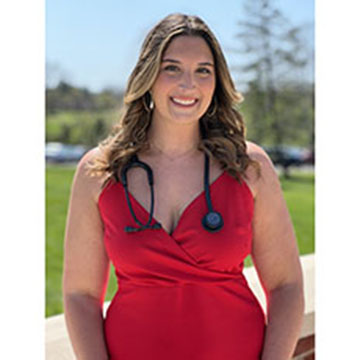 Current Position: Registered Respiratory Therapist at Abington Jefferson Hospital
Job title updated: Summer 2022

Morgan attended William Tennent High School. She first heard of GMercyU from a cousin who graduated from the Nursing program. Morgan cited GMercyU's size, and what it means for its students, as what sold her.

"Since it is a smaller school, it allowed me to get to know my professors more on a personal level and vice versa. Not only that, but the location allowed me to commute so I could still live at home, see my hometown friends, and continue working where I'd worked for years," Morgan said. (Outside of the classroom, Morgan worked at a doctor's office.)


Experience in the Respiratory Therapy Program
"I absolutely love the Respiratory Therapy program. This specific program is spoken highly of from many Respiratory Therapists (RTs), nurses, and even physicians throughout surrounding hospitals," Morgan said.

Morgan expressed that because the program is small, it was easier to receive one-on-one help if needed. Students also had the opportunity to get to know one another, as well as faculty, on a more personal level.

One faculty member that stood out to Morgan is Randy Solly, Professor of Practice and Program Coordinator for the Respiratory Care Program.

"Within the last year, he became the new Program Director. Taking on this new role and learning the ropes while practically juggling two positions at once for a brief time (Program Director as well as Director of Clinical Education), he was still there for his students, both academically and personally. Randy is a professor who finds satsifaction from his students' success in all aspects," Morgan said.


Clinical Experience
Morgan completed clinical rotations at eight hospitals during her time at GMercyU, including: Jefferson Bucks Hospital, Jefferson Torresdale Hospital, Hospital of the University of Pennsylvania (HUP), Penn Presbyterian Medical Center, Einstein Medical Center Montgomery, Lankenau Medical Center, Thomas Jefferson University Hospital, and Abington Jefferson Hospital. Her primary responsibility was to provide the correct patient care.

"My responsibilities ranged from providing breathing treatments, managing ventilators as well as other oxygen delivery device systems, assisting in pulmonary function tests, educating patients on their diseases and how to manage them, recommending treatments for patients, and assisting in respiratory related procedures," Morgan said.


Why Attend GMercyU?
"This university really makes you feel at home. Everyone is extremely friendly on campus, and you can really tell the professors care for their students and their academic success," Morgan said.


Post-Graduation
After graduating in May 2022, Morgan plans to take the Therapist Multiple Choice (TMC) and Clinical Simulation Exam (CSE). She has also accepted a position at Abington Jefferson Hospital.

"From doing clinical rotations at this hospital, I can tell there are many opportunities for growth as an individual," Morgan said.
November 2022 update: Morgan was one of two GMercyU Respiratory Care graduates chosen to present their research at the Pennsylvania Society for Respiratory Care's Research (PSRC) Symposium.