Megan McStravick
Social Work 2007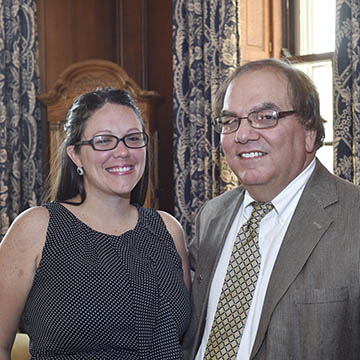 Current Position: Social Worker at New Orleans Musician Clinic
Story Last Updated: September 2015
Current Position Updated: March 2019
Distinguished Alum Finds Home in The Big Easy
I started at Gwynedd Mercy University in 2002 as an Education major. While participating in practicums as a teacher's aide, I began to see the many challenges they face with children who had developmental and learning disabilities. I began to think more deeply about my career path and how to incorporate my skills, passion for helping others and learning techniques into a profession that would allow me to continue to teach, have a positive impact and view communities and social issues on a broader level.
During this time Dr. Wade Luquet was beginning a new Human Services degree which matched what I was looking for.
I entered the Human Services program and was offered classes which gained my interest and opened up opportunities to further understand the struggles of others and the positive impact of community resources and leaders.
In spring 2007, my final semester at GMercyU, I took the class: History and Culture of New Orleans with Dr. Luquet which included a one week visit to New Orleans. This was my first visit to New Orleans and I immediately fell in love with the city I would someday call my second home. Upon my arrival back to Philadelphia and with graduation rapidly approaching, I began the application process for the Tulane University School of Social Work program which was to begin in September 2007.

On August 29th 2007 exactly 2 years after Hurricane Katrina, I made the riskiest decision of my life by moving to a new city on my own. I knew I would be faced with personal and social challenges and experience an immense culture shock but I was up for the challenge.

I began at Tulane and went on to graduate with my master's in social work in December 2008. In 16 short months I experienced personal growth, met lifelong friends, witnessed the power of the human spirit and was so fortunate to be introduced to one of the most unique cultures in the world.

During my time at Tulane, I interned at, Sweet Home New Orleans, a nonprofit agency that assists displaced New Orleans Musicians and cultural bearers in returning back to New Orleans through financial assistance, community resources and through the support of people all around the world.

After graduation in 2008 my internship supervisor connected me to a partnering agency, the New Orleans Musicians Clinic, where I have been employed since February 2009. I am the Social Worker / Social Services Intake Coordinator for the clinic which serves a population of 2500 musicians, cultural bearers and all individuals who work so hard to ensure New Orleans continues to provide the world with its musical talent, unique cultural and amazing spirit.

I continue to be inspired and empowered on a daily basis by the resilience of this great city. I am honored that I have been given the opportunity to incorporate my own personal experiences, my education and my faith to help and serve others especially a sometimes vulnerable population.

*Megan was the recipient of the 2014 Distinguished Alumni Awards, GMercyU's highest alumni honor.

**Gwynedd Mercy University's Human Services program is no longer enrolling new students. You can learn more about similar programs on the School of Arts & Sciences page.