Leigh Herzberger
Occupational Therapy 2021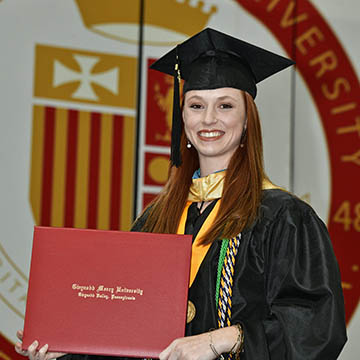 Current Position: Occupational Therapist, Pediatric Therapeutic Services, Inc.
Story Updated January 2022
Story Published March 2021

Life can change on a dime, and for GMercyU Occupational Therapy student Leigh Herzberger '20/'21, a major car accident opened a new path that became her passion and led her to an exciting new role at the AOTA beginning this summer.

While Leigh was a junior in high school, her cousin was in a near-fatal car accident in Florida that left him fighting for his life. He sustained a traumatic brain injury (TBI), multiple broken bones, and was in a coma for weeks, all while his family was hundreds of miles away in Pennsylvania.
I witnessed the experience of this trauma from many angles. Not only was my cousin fighting to recover from so much physical trauma, but his closest support system that was fighting for him too, experienced incredible challenges throughout his rehabilitation. I did not know it at the time, but this was a period of significant disruption for my whole family.
His challenging rehabilitation process greatly impacted Leigh, and she became intrigued with his occupational therapy sessions, something she'd never heard about until then.

"I found myself FaceTiming my aunt and uncle during my cousin's OT sessions so I could observe his treatment," said Leigh. "As I recognized the difference of the occupational therapist's role in treatment, I knew that was something I wanted to be a part of one day. It didn't take long for me to realize that I wanted to become someone who could help others to engage in meaningful and necessary occupations in everyday life."
Beginning Her OT Journey
Leigh then began planning her path to become an occupational therapist. She initially started studying recreational therapy at a local college with plans to apply to a Master of Occupational Therapy (MSOT) program upon graduation.

During the spring semester of her sophomore year, Leigh heard about GMercyU's then brand new Occupational Science/Occupational Therapy 3+2 OT career track and decided to make a change. At GMercyU she found an incredible support system and invaluable experiences.

"From partnering with local churches and going on service trips to other countries, GMercyU students are out there as representatives of our university, doing for others, and showing love and mercy to the world around us," said Leigh.

"I had absolutely no idea just how amazing this community is and the wealth of opportunities that were ahead of me at GMercyU."
An Incredible Achievement: Running, and Winning, an AOTA Election
Looking to make an impact on a national scale, Leigh decided to run in the election for the American Occupational Therapy Association's Assembly of Student Delegates Chairperson. Leigh had learned about the opportunity through her AOTA Membership, which is included in GMercyU's OT program, and, with the support of her professors, decided to run for the two-year position.
I was so excited to find out I was elected as the AOTA ASD Chairperson; I am still in disbelief that this will be happening. I couldn't wait to tell Dr. Mernar and my other professors about it.
On July 1, Leigh will begin her role as the AOTA ASD Chairperson, which is the highest AOTA office position offered to students. In this role, Leigh will preside over meetings, prepare materials such as agendas and reports, bring concerns of students in OT and OT Assistant (OTA) programs to appropriate bodies within the association, among other responsibilities.

"One of the projects I hope to work on with AOTA and the other ASD officers includes promoting and increasing OT and OTA student and new practitioner engagement in AOTA," said Leigh. "There are many barriers to student engagement in professional associations and I hope to address and remove these barriers."

In addition to the tremendous honor of being elected for a national position on the AOTA board, Leigh dove into many leadership opportunities on-campus in both her undergraduate and graduate programs at GMercyU. She served as the Occupational Science Representative and Occupational Therapy Representative for her respective class years, as well as served as the president of the Student Occupational Therapy Association (SOTA) in 2020. Leigh is also currently serving as the President of GMercyU's chapter of Pi Theta Epsilon, the national occupational therapy honor society.
Leigh's Next Steps
With her bachelor's degree completed last spring and her master's program wrapping up this summer, Leigh is nearing the finish line. Then, she can start making a difference in the lives of patients, just like her cousin's occupational therapist did for him.

"My next steps will include taking and passing the National Board Certification of Occupational Therapy (NBCOT) exam to become a licensed occupational therapy practitioner," said Leigh. "I hope to work with adults or older adults one day, but I am very open-minded to all of the roles and settings where an OT can work. At the moment, I hope to get experience in a neurorehabilitation setting with older adults who have experienced a traumatic brain injury."

*In October 2021, Leigh passed both the Pennsylvania State Board of Occupational Therapy and the National Board for Certification in Occupation Therapy (NCOT). She now works as an OT and told us, "I'm loving it so far!"