Danielle Rainier
Marketing 2017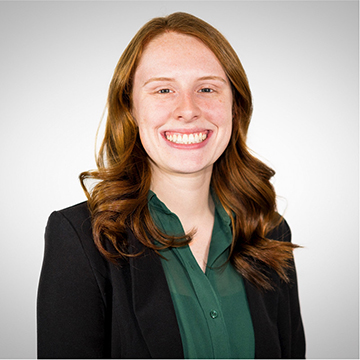 Current Position: Business Development Manager
Story Last Updated: September 2016
Current Position Updated: November 2020

I attended Philadelphia Academy Charter School, a small school in Northeast Philadelphia. When looking for a college, I wanted that close-knit atmosphere and be known as a name by my professors, not just a number. I decided to pick Gwynedd Mercy University after visiting for the first time on Accepted Students Day. The campus was beautiful and small enough for me to feel comfortable.

When it came to my major, however, I was lost. The academic advisors helped me narrow down my choices and I was placed in a Business Theory class with Dr. Hoffman. After taking both Principles of Management and Principles of Marketing in my first Spring semester, I decided I enjoyed Marketing more and felt I could bring more to the table in this profession.
Throughout my education, I have always loved getting involved so it was no surprise when I joined the Student Activities Committee my first week of school. That was pretty much the stepping stone of my involvement on campus and it has continued through all four years.
While involved in the Student Activities Committee, I'm also a work study student in the Office of Student Activities and Leadership Programs and a Resident Assistant the past two years. Through these three, I was able to keep connected to the campus, experience many different opportunities and build leadership, time management, and a variety of other skills to help me later on in life.

During my time here at GMercyU, I wanted to travel and experience studying abroad. GMercyU's School of Business has mini study abroad programs that take place over winter break. During my sophomore year, I was able to travel to Edinburgh, Scotland and London, England and over winter break of my senior year, I will be traveling to various cities in Italy. The summer after junior year, I went to Chicago, Illinois with Lauren DuCharme of Campus Ministry and two other students to participate in the Campus Ministry Leadership Institute conference where we planned a food cupboard to be placed on campus for students experiencing hunger.

During my sophomore year I was further introduced to how important mercy is here on campus. I decided to apply for Alternative Spring Break, a trip through Campus Ministry where you spend your spring break somewhere outside of Pennsylvania helping those in need. The location I was went to was Cincinnati, Ohio. We spent the week working with food insecurity and the poor at Mercy Neighborhood Ministries, St. John Service Center, and Bethany House.

After returning from Cincinnati, I knew I didn't want to stop participating in the service on campus. During my second year of ASB, I went to San Carlos, Arizona where I worked with children on a Native American Reservation at Rice Elementary. Not only did I get to work with the students, but I also worked with GMercyU alum Steven Rufe. Working in Arizona further convinced me that I want to continue doing service and helping people all around the world.
It didn't take me long during my time at GMercyU to understand that I was made for service and it was something that I plan on continuing after I graduate.
As a friend on campus said to me once, people attend Gwynedd Mercy University for Gwynedd and for Mercy. I am definitely one of those people and will never regret my choice in choosing GMercyU as my college of choice.