Catharine Hay, RRT
Respiratory Care 2021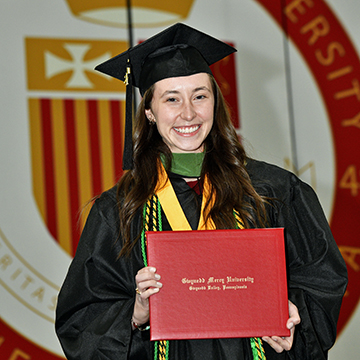 Current Position: Registered Respiratory Therapist at Lehigh Valley Health Network in Adult Critical Care
"I am a full-time night shift staff member at LVHN, and I would not trade it for the world," said Catharine. "I really do love being an RRT at LVHN."

Catharine landed her new job before she even graduated from GMercyU's BHS in Respiratory Care Program. She'd had a number of clinical rotations at LVHN during her clinical time at GMercyU and was very familiar with the facility when she applied.

However, years earlier, she'd never even heard of respiratory care. Here's her story, in her own words.
Discovering the Field of Respiratory Care
I never thought I would be a RRT. To be honest, I did not even know that a career as a respiratory therapist existed. When I started college, I was an exercise science major at Montgomery County Community College. I knew I wanted to do something within the healthcare field, but I couldn't quite put my finger on what it was.

I decided to further my education and obtain my bachelor's in occupational therapy, so I went to an upcoming Open House at GMercyU. There, I met Barbara Schuster [Assistant Professor and Director of Clinical Education, Respiratory Care], and she introduced me to the world of respiratory care. I immediately fell in love with this career idea and knew this was what I was being called to do.
To sum up my career discovery in a nutshell, GMercyU helped me realize that being an RRT was my life's calling.
A Transformative Moment
My very first day of clinical is one I will never forget. It was the first time that I actually went into a patient's room and had to give them a breathing treatment – something that comes second nature to me now, but was so eye-opening and enlightening back then.

When I placed my stethoscope on the patient's back to listen to their breath sounds, I had a moment that made me realize that I was about to embark on a career that makes a huge difference.

"As a new graduate and a new employee in this field, I can honestly say that I truly love what I do. I am proud to call myself a GMercyU graduate for this reason."
Respiratory Care Faculty
All my professors helped me reach my full potential when I was a RC student. I felt very confident by the time I graduated that I received an education that made me a competent RRT. I felt prepared to take my TMC and Simulation Exam, both from the education that I received and the encouragement of my professors.
Getting Involved at GMercyU
First and foremost, I was heavily involved in the Campus Ministry team. I was also the first student to be a Campus Ministry fellow.

I was an Alpha Eta and Sigma Phi Sigma Honors Society member, a respiratory care tutor, and a Griffin Student Leadership Institute graduate.

I was also one of the founders of the Zero Waste and Sustainability Club.
A Typical Day in the Life of a Respiratory Therapist
As a new graduate working in this field and in a critical care setting, every day is different. Some days are very hectic, and others are not as busy. However, everyday is challenging and exciting.

Although I work throughout the entire hospital, I particularly enjoy working in the emergency department. Any day in the ED can consist of intubation/ventilator initiation, oxygen setups, noninvasive ventilation, ABGs, etc. This work exercises your problem solving and critical skills all the time.

When you first start, it may seem a little chaotic and overwhelming, but that soon subsides when you become familiar with the facility.
Why She Loves Respiratory Care
Respiratory Care is a selfless career just like any other healthcare career. One of the unique aspects of respiratory care is that the job is different every day, and there are several areas of practice that you can pursue.

Usually, you don't stay with the same patients day after day, and you're able to work in different areas of the hospital. However, your scope of practice does not need to reside in a hospital. For example, you can specialize in PFTs, neonatal and pediatrics, bronchoscopy, rehabilitation, teaching, and so much more!
Overall, being a respiratory therapist is fun and challenging. You use a large amount of critical thinking and problem solving skills, most of which you learn during school and on your clinical rotations. These are then perfected with experience and job training.
As a new graduate and a new employee in this field, I can honestly say that I truly love what I do. I am proud to call myself a GMercyU graduate for this reason. GMercyU helped me to become a confident RRT, and LVHN is helping me to expand on my experience and knowledge I learned in school.
Career Goals
I really enjoyed my clinical time at LVHN as a student and was so excited to start as a new employee. I can definitely see myself working at LVHN for a long time. There is plenty of opportunity for growth in this field and facility.

I plan to obtain my ACCS and hope to obtain my NPS in the future.