AnaLee Rodriguez
Communications 2015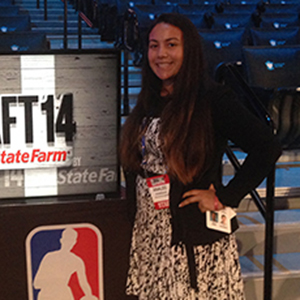 Current Position: Marketing Specialist at the University of Florida
Story Last Updated: August 2022
Current Position Updated: August 2022
Looking back on my accomplishments at GMercyU, you'd never know how shy I was my freshman year. I pushed myself to step out of my comfort zone and it paid off.
I got involved on campus as a Resident Assistant, Editor-in-Chief of the Gwynmercian, Co-President of Sigma Phi Sigma, and member of the track and field team. I even beat the University's four-year-old shot-put record.

Off campus, I incorporated my passion for creative design into my internships at ESPN's 97.5 The Fanatic in Philadelphia; the Trenton Thunder, the AAA Affiliate of the New York Yankees and –my favorite internship of all – at the NBA front offices in New York City.

I graduated in 2015 with my bachelor's degree in communication and I was really fortunate to get a job in the industry that I studied in college and in the sports media and entertainment realm. Staying open and willing to continue to learn even after college helped me grow as a professional in and out of the multi-media world. My experience with the different internships that I worked with in college was something that I would never take for granted. They helped me tremendously with my career.
Life after GMercyU
My first job out of college was at ESPN's Wide World of Sports in Florida. I met wonderful people while working as an action shot game day photographer for events such as the Pop Warner Football All-American game, The Cheer Championships, and the Under Armour Games. I would also follow specific athletes and be their personal photographer for the game or tournament and created and edited photos, graphics, ESPN Magazine Covers and more.

After ESPN I went out of my comfort zone to grow and be an all-around marketing professional instead of only multimedia and ventured into the property and land development industry. I began as an events coordinator, bringing in sports teams, bands, and food trucks. I would also market those events and use digital media. Through these efforts, the company saw my high success rate and moved me into management. I then became the Marketing Manager for the entire Tampa Division where I would negotiate media contracts such as billboards, radio, signage and more. I would also use my graphic design, photography and event skills by re-branding their identity, creating a brand guideline, writing radio scripts, press releases, directing commercials, and increasing engagement on social channels. I increased event attendance from 500 to 10,000, which led to selling an entire subdivision in a new construction master plan community. During this position, I also created a national award-winning commercial for the company. In this role, I was able to do the multimedia creative work that I love, while gaining greater experience outside of my bubble in sports.

I was then at a point in my life where I wanted to do something different. My assistant in the previous company graduated from the University of Florida and was a Florida Gator. This prompted me to look into the school and her educational path, where she studied marketing. I ended up seeing a posting and went for it. They gave me a questionnaire, test, and a few tiered interviews and before I knew it I was a Florida Gator myself. I am now a Marketing Specialist, which is a new position for the University. I am spearheading their social media engagement, website management, multimedia communications internally and externally, create football and other athletic event communication, while pushing notices about events. Every day is different. One day I will be working on football and the next I will be creating a nationally-recognized charity initiative on campus with the campus president. Sometimes I am getting interviewed by reporters about campus and other days I am creating a newsletter for campus and answering the Twitter feed. It keeps it interesting and exciting.
GMercyU was able to keep me busy and gave me the opportunity to explore all of my interests while being a communication student, student-athlete and a resident assistant. One thing I will always take with me from GMercyU is how they would always say to step out of your comfort zone and when I did, I learned a lot.
I have taken that advice with me to UF. So far, I have created a nationally-recognized program called Food for Fines on campus, which started as an April Fool's Joke with the President but I filmed a video which I released to the UF social channels saying the joke is actually a reality. Parking tickets can be paid off by donating food to the on-campus food pantry. This gained such a large audience, people from other campuses have called to ask how we pulled something like this off.

Helping others is what I enjoy doing and by going to GMercyU, it was the perfect fit. Now I carry Mercy with me wherever I go, even now as a Gator. I was also asked to be on an Esports Master Class panel with the President of the Charlotte Hornets and Michael Jordan's best friend, an entertainment marketing legend, the chiropractor for Dwayne Wade, a top draft pick for the start of the NBA 2k league and more. During this panel, I have created long-lasting connections and friends. I currently am working on different projects through my Digital Marketing and Design company AR Elite Studio with some of the people mentioned above. I am also the Marketing Lead for Chris Roe Racing, a race car driver's social channels, web and print marketing collateral design.
Life After the University of Florida
In August 2022, AnaLee accepted a position within Public Affairs for the Walt Disney Company. She will be working within their consumer producta and interactive media sector for Disney, Pixar, ESPN, Marvel, Star Wars, National Geographic, and 20th Century.