Alyssa Yiaski
Psychology 2023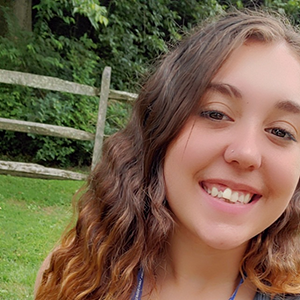 Current Position: Master's Degree in Counseling Student at GMercyU
In the news: In 2023, Alyssa was featured in a podcast and accompanying article on KYW Newsradio on why Gen Z is so open to discussing mental health and the role social media plays. Read the article or listen to the podcast below.

Journey to GMercyU
If you asked me at the end of high school what my plans five years from then would be, it would be graduating from college, making a difference, and being happy.
After going through a traumatic experience in high school that nearly set her back, Alyssa successfully graduated from Plymouth Whitemarsh High School in 2018.
At the age of 18, Alyssa was on her own, trying to figure out college, paying the bills, and simply surviving.
"Luckily, I had a strong support system outside of my family that helped me through these changes and challenges," Alyssa said.
Alyssa started her college journey at Indiana University of Pennsylvania, but transferred to Montgomery County Community College (MCCC) due to financial trouble. After two years at MCCC, she graduated with an associates degree.
She first heard about GMercyU through a friend who had applied and recommended she look into it.
"When looking into GMercyU, I loved that it was a smaller school and its core values aligned with mine. It seemed like it had a strong Psychology program as well, which was the biggest selling point," Alyssa said.
Life on Campus
Once she arrived on campus, Alyssa was an active member of the GMercyU community. She served as Treasurer of the Social Work and Psychology Club (SWAP) and a leader on the Psychology Advisory Board. She was also inducted as a member of Psi Chi, the International Honor Society for Psychology.
"My favorite part about GMercyU is the community I built and the teachers and advisor I had. I felt like more than just a number and was able to grow as a person," said Alyssa. "The teachers I had motivated me, helped me grow my strengths and weaknesses, moved me outside of my comfort zone, and saw my abilities and potential and helped me become the best version of me. I also loved being part of SWAP, a club that aims to promote positivity, do good deeds, and emphasizes self-care."
Experience in Psychology
"My experience in the Psychology program was amazing. I learned so much and felt confident in my ability to take what I learned here and apply it in a job setting," said Alyssa.
Alyssa loved every one of her professors, particularly Dr. Rebecca Gullan, Dr. Janice Nuss, Professor Stephanie Fratantaro, and Dr. Patrick Messina.
They pushed me to be better, to see my strengths, opened my mind to deeper knowledge, and prepared me for my future career.
Alyssa also earned a minor in Counseling and Interpersonal Relations, something new to GMercyU during the 2022-2023 school year. She loved her experience and the guidance she received from Professor Fratantaro.
"The classes I took to fulfill my minor helped me gain strong skills and knowledge for the mental health and counseling field. I added this minor towards the end of my junior year, but it never once felt overwhelming and tied into my major perfectly," Alyssa said.
Panel Event
In March 2023, Alyssa hosted a panel for her Capstone project, working with the Department of Human Services and the RJ Leonard Foundation.
"I wanted to work with teens aging out of foster care because I was adopted when I was nine. This is something that is meaningful and personal to me, and something I have always wanted to help make a difference in," Alyssa said.
Alyssa raised $925 for the RJ Leonard Foundation, and enjoyed hearing the experiences of the panelists.
"This project meant a lot to me because I was able to give back to a community in need and raise awareness around such a pressing issue," Alyssa said.
Internship Experience
Alyssa completed an internship at GMercyU through the Integrated Studies program where she served as a Peer Mentor. Zack Hulings, Alyssa's supervisor and Interim Program Director of Integrated Studies, made her experience comfortable and welcoming.
As a Peer Mentor, Alyssa attended classes with her five mentees, took notes and assisted them when necessary. For one hour each week, Alyssa held tutor sessions with each student to complete assignments, answer questions, or study for upcoming tests.
"I was curious at first as to how my major fit in with this internship, but over time I learned that psychology truly is needed everywhere," said Alyssa. "My biggest takeaway working with these students is that the smallest amount of compassion and patience can go such a long way. They inspired me and taught me more than I am sure I taught them."
Why GMercyU?
I can't speak on behalf of every major, but from what I've experienced and seen, GMercyU takes each student and makes them more than just a number. Students are able to take their passions and curiosities and turn them into something incredible, whether it's in class or in the community.
Alyssa shared that there are many opportunities for students to participate in hands-on experience to build and harness their skills. GMercyU allowed Alyssa to build meaningful connections with faculty and classmates.
"I worked three jobs and was a full-time student, but the course load never seemed impossible, and success never felt unobtainable. Being at this school I always felt heard, seen, and safe," Alyssa said.
Post-Graduation
Alyssa plans on pursuing her master's degree in Counseling at GMercyU or master's degree in Social Work at Bryn Mawr College.* Her dream is be a therapist for adolescents while working with teenagers who age out of foster care. A long-term goal is to earn her doctorate and potentially open her own practice.
"I never would have imagine accomplishing so much, let alone even graduating college. I am forever grateful to GMercyU, my chosen family, friends and faculty for helping me get to where I am today," Alyssa said.
*Alyssa ultimately chose to pursue her Master's Degree in Counseling at GMercyU.