GMercyU Students and Staff Attend Ignatian Family Teach-In for Justice in Washington, DC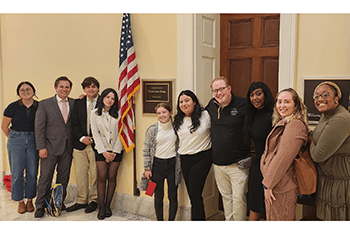 Gwynedd Mercy University students and staff attended the Ignatian Teach-In for Justice in Washington, DC from October 28-30. The event originated in 1997 to commemorate six Jesuits, their housekeeper, and her daughter who were killed by the Salvadorian government for speaking against it in the late 1980s, early 1990s. This year's theme was of Boundless and Beloved.
Today, the event is designed to bring people from various universities together to learn about social justice issues and build community. Attendees attended breakout sessions to learn about topics such as climate change, migration policy, how to be anti-racist on campus, promoting ethical goods and fair-trade products on campus. Attendees also listened to keynote speakers and engaged in a public witness, which is a type of protest in which student speakers shared their connections with particular issues.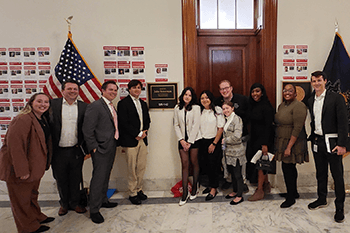 GMercyU students and staff has the opportunity to meet with members of U.S. Senator Bob Casey Jr.'s, U.S. Senator John Fetterman's, and U.S. Congresswoman Madeleine Dean's staff. They asked each group to support a variety of different items related to climate justice and justice for migrants. Additionally, the group met with Sisters of Mercy who were also in attendance.
"Everybody at the conference, all the different students from different schools, were there because they wanted to pursue social justice and some of whom wanted to pursue social justice from a lens of faith because it is a Catholic conference," shared Jeff Wallace, GMercyU's Director of Spirituality & Justice.
Similar to Alternative Break, students and staff has the opportunity to reflect on their experiences throughout the day. Particularly, they were asked to reflect on when and where they felt most challenged and/or not connected to oneself.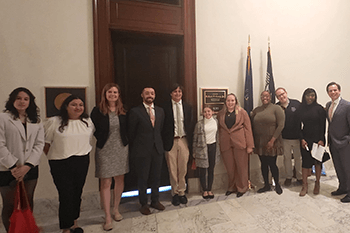 Below are some of the first-hand accounts students who attended the trip shared:
"I believe that attending the Ignatian Family Teach-In and advocating on Capitol Hill introduced me to an experience that I will remember for a very long time. After this weekend, I know what I can do better as an advocate and how much I can impact the lives of others." - Ijahnae Robinson '25, Public Health
"It was a blast meeting new people while striving to follow the Sisters of Mercy Critical Concerns and advocating for justice." - Michael McKeehan '27, Psychology
"I highly recommend this trip. You are advocating for such a good cause and get a good experience out of Ignatian Family Teach-In for Justice." Lourdes Mendez '24, Public Health
"This trip was very inspirational and taught leadership on many levels." Victoria Sloan '28, Accounting major with a minor in Computer Information Science