Tamala Edwards Moderates GMercyU's Women in Leadership Panel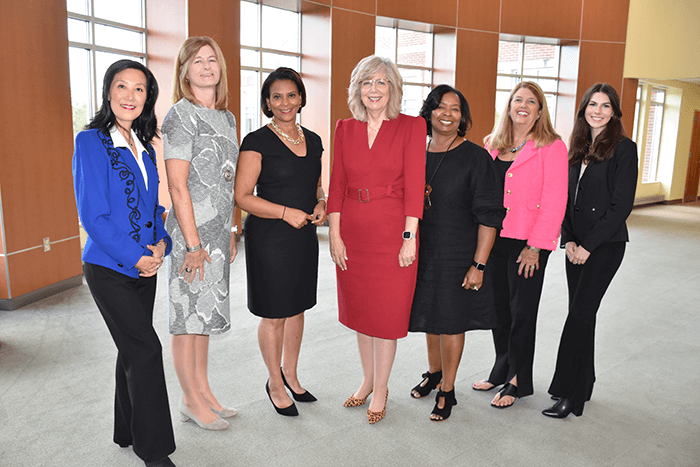 On October 5, as part of its 75th anniversary celebration, GMercyU hosted a panel discussion on Women in Leadership: Meeting the Next Great Through Innovation and a Growth Mindset. Tamala Edwards, journalist and 6ABC news anchor, served as the event's moderator.
The panelists included three accomplished female entrepreneurs, leaders and innovators in their fields: Donna Dorozinsky '83/'85, Jie Du, PhD, and Ellen Stang, MD.
Dorozinsky is President and CEO of Just in Time Good Clinical Practice (GCP), a registered nurse, an entrepreneurial business consultant, a member of GMercyU's Board of Trustees, and a GMercyU alumna. Dr. Du, who served on GMercyU's President's Council from 2015 to 2019, is founder of JDP Therapeutics, a research scientist, entrepreneur and philanthropist. Dr. Stang, founder and CEO of Progeny Health, is a board-certified pediatrician, entrepreneur, and a recognized leader in improving outcomes for maternal and premature newborn health. Dr. Stang also served on GMercyU's Board of Trustees from 2014 to 2023.
During the discussion, Dr. Du noted that statistics show more men become entrepreneurs than women. To help change the statistics, the panelists emphasized the importance of not being afraid to take risks, since growth and learning can come from failure, to do your research before pursuing a new venture, and to always follow your passion.
The panelists also highlighted the importance of keeping goals focused -- not just on where the industry is currently, but also where it's going -- and, ultimately, trusting in oneself and one's goals.
"Believe in yourself and believe in the impact of the need you're trying to fill," shared Dr. Stang.
All three panelists spoke about the value of bringing diverse perspectives to the table, and finding strong mentors. Dorozinsky also emphasized the impact of having a growth mindset and trusting your gut. "Attitude determines altitude," she said.
Event attendees were encouraged to ask questions after the panel discussion. GMercyU librarian Jessica Richmond asked for leadership book recommendations and the following were shared:
The 5 Graces of Life and Leadership, by Gary Burnison
If You Don't Have Big Breasts, Put Ribbons on Your Pigtails: And Other Lessons I Learned from My Mom, by Barbara Corcoran
The Ride of a Lifetime: Lessons Learned from 15 Years as CEO of the Walk Disney Company, by Robert Iger
Check out the events page on GMercyU's website to learn about upcoming events related to the 75th Anniversary and this year's University Theme: Visionary Women: Mercy Makes the Difference.