GMercyU Hosts U.S. & Israel International Mini-Conference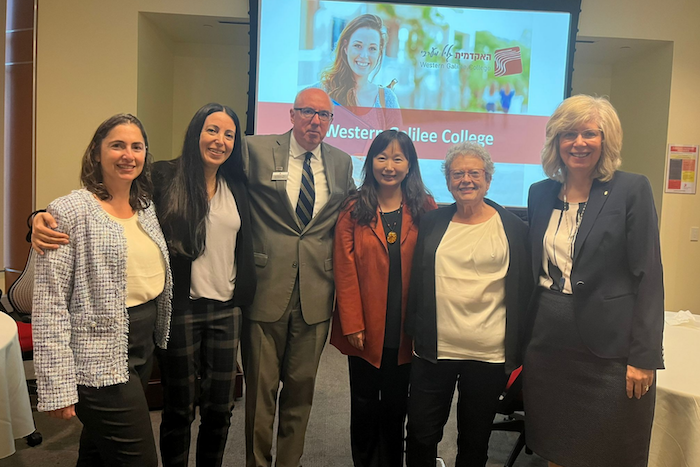 Gwynedd Mercy University hosted the U.S. & Israel International Mini-Conference on October 2 through October 4 as part of its partnership with Western Galilee College in Israel.
The topic of the conference was "Building International Partnerships Through Research, Collaboration, and Pedagogy Exchange" and featured many inspiring presentations, interactive roundtable discussions and provided opportunities for faculty networking, collaborative learning, and professional empowerment. Three faculty members from Western Galilee College, Professor Vered Vaknin-Nusbaum, Dr. Devorah Eden, and Dr. Michal Levi, presented their work with their GMercyU partners, met with students, and engaged in discussion with GMercyU faculty. For those who couldn't travel, presentations were done virtually with their GMercyU partners.
Dr. Carol Etlen, Associate Professor and Program Director for Education Administration, presented with Professor Devorah Eden of Western Galilee College and representatives from Israel. 
Together they presented on the topic of Entrepreneurial Leadership and Gender in Schools - Israel and the United States. The purpose of their research is to identify the gender similarities and differences of school leaders with regard to entrepreneurship. Research is currently in the beginning stages with the hope of being completed in 2024.
The international partnership was established in Fall 2022 to provide innovative, cultural, and experiential teaching and learning experience, and scholarship opportunities for faculty. The collaboration started with 18 GMercyU faculty members and 19 Western Galilee College faculty members. Faculty members from different disciplines paired together on related research topics and have begun working together since.
GMercyU's partnership with Western Galilee College is ongoing, with joint research and publication, collaborative student projects, guest speakers, and a possible student or faculty exchange. Western Galilee College plans to host a similar conference on their campus next year, with GMercyU faculty traveling.