Mercy in Action
Campus
Alumni
Gwynedd Mercy University Unveils Catherine McAuley Statue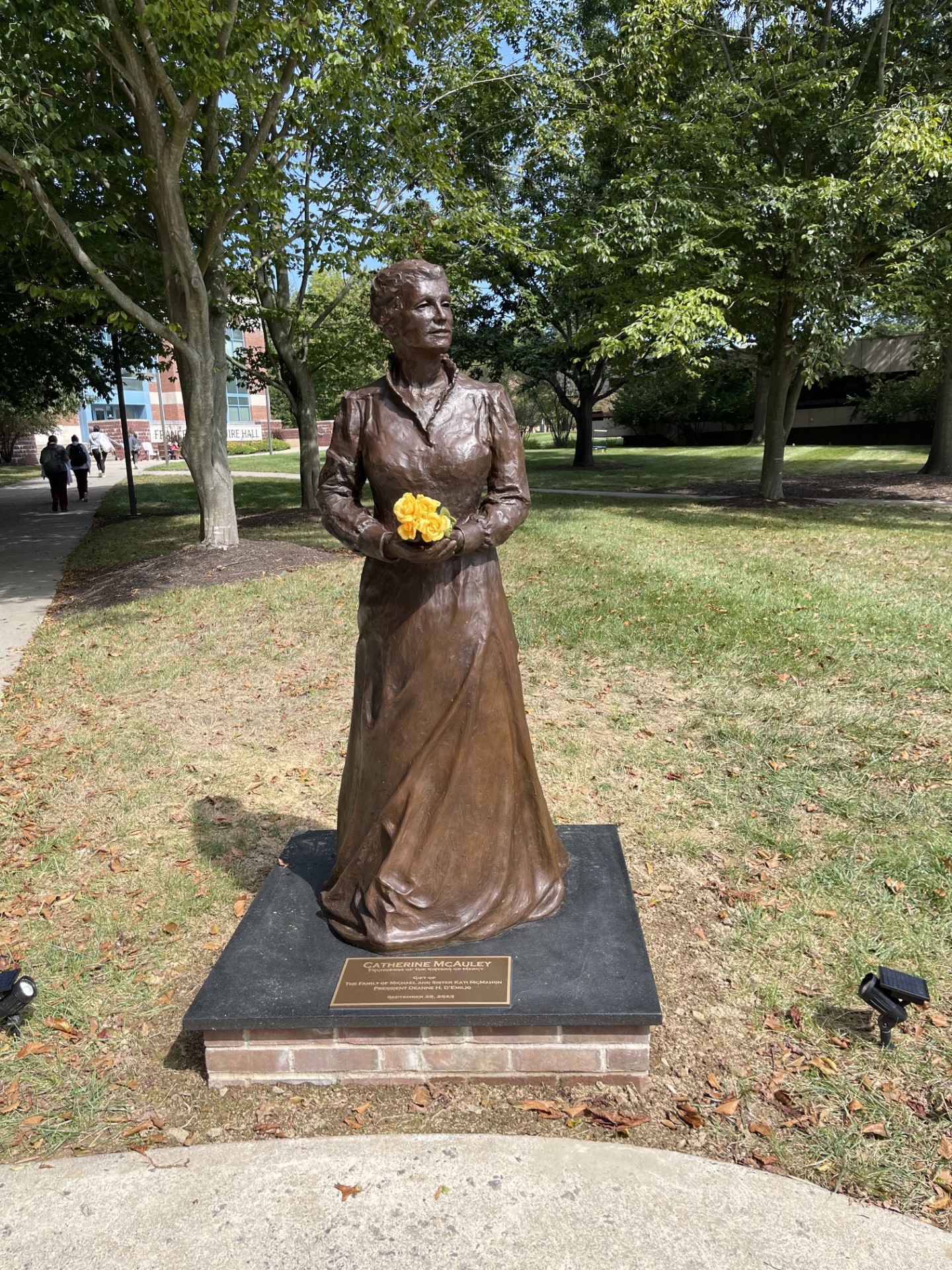 Gwynedd Mercy University unveiled and held a dedication ceremony for its new Catherine McAuley statue that sits at the center of campus on September 29, 2023, Catherine's birthday. The statue commemorates Catherine's legacy and the continued work of the Sisters of Mercy.

In 1831 in Dublin, Ireland, Catherine McAuley founded the Sisters of Mercy. Her mission was to serve those suffering from poverty, sickness, and a lack of education, especially women and children.
Today, nearly 200 years later, Catherine's Mercy Mission still lives on through the Sisters of Mercy across the globe.
At GMercyU, Mercy is the key to our academic excellence and lifelong learning, our respect for the dignity of each person, and our mission to educate the whole person.
The statue was a gift of President D'Emilio and the family of Vice President Emeritus Sister Kati McMahon, RSM and Michael McMahon.

"What started out on Baggot Street in the early 1800s now spans continents. Our more than 25,000 Distinctive Mercy Graduates carry out our Mercy mission all across the world – in boardrooms, hospital rooms, classrooms, and laboratories. They do well and do good. They make a difference," shared President Deanne H. D'Emilio, JD. "And it's all because of Catherine."

The statue is a life-sized, bronze structure created by Marie Henderson, RSM and stands approximately five foot six inches tall. Using the "lost wax" method, Sister Marie used molds of an original clay sculpture using materials like rubber, wax, ceramic, and, finally, bronze. 

The event also served as a reunion for the Class of 1973, who are celebrating their 50th anniversary. Alumna Ann Eissler, who was a member of GMercyU's second graduating class in 1951, was also recognized.