GMercyU Students Take Part in Independence Blue Cross Healthcare Scholars Program
The Independence Blue Cross (IBX) Foundation recently announced the expansion of its IBX Foundation Healthcare Scholars Program. The program is designed to create an education pathway for underrepresented groups who wish to become nurses by providing four- and two-year scholarships to students pursuing a bachelor's or associate's degree in nursing.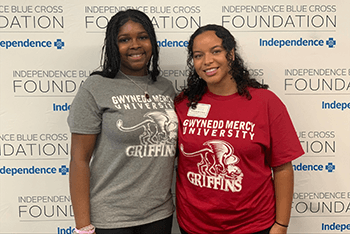 This year, two GMercyU Bachelor of Science in Nursing students, Aja Foster '27 and Amanda De La Rosa '27, have been awarded $17,500 per year for four years.
The two attended the IBX Foundation Healthcare Scholars ceremony on August 17 in Philadelphia, Pa. Aja, along with Dr. Jane Tang, new Dean of GMercyU's Frances M. Maguire School of Nursing and Health Professions.
"I am proud of our students for receiving this honor and excited for the opportunities they will be getting for entering into the Nursing Program," shared Dr. Tang.
Both Aja and Amanda chose GMercyU for its long history of excellence in nursing education and look forward to pursuing their passions.
"I chose to attend Gwynedd Mercy University to pursue a degree in Nursing because it is a highly accredited school for Nursing in Pennsylvania. I also have many family members and friends who attended and received Nursing degrees. I have heard nothing but great things about the classes, professors, and community that GMercyU has, and I'm looking forward to the next four years!" said Aja Foster '27.
"Upon setting foot at Gwynedd Mercy University, I could see that my values both medically and religiously coincided with those taught on campus. My passion for nursing originated within the warmth and kindness of my familial relationships. I found the same kindness in the faculty members and the growing friendships I made throughout my orientation days that drew me to GMercyU. The involvement that Gwynedd Mercy University has within the community through acts of service is something that I am without a doubt excited to be a part of as I begin my nursing program this fall. Thank you so much for this beyond incredible opportunity," said Amanda De La Rosa '27.
Learn more about the IBX Healthcare Scholars Program.