GMercyU Kicks off Mercy Week with Service Event
Raphael Riendeau '24
September 26, 2023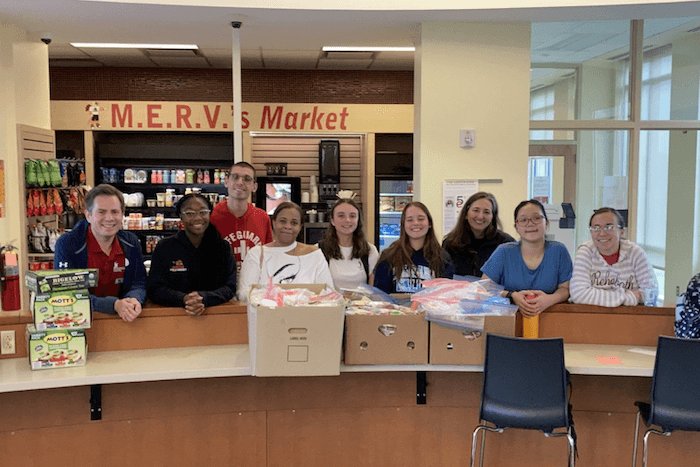 Gwynedd Mercy University hosted a service event sponsored by The Mercy Center to help generate food bags for Manna on Main Street, a non-profit organization which combats hunger and brings the community together on Monday, September 25. Students, faculty, and staff gathered in University Hall to produce 110 food bags.
The Mercy Center was eager to follow along with Manna on Main Street's request to prepare breakfast-themed food bags, which included such as oatmeal, granola bars, fruit cups, apple sauce, tea bags, a bottle of water, utensils. The meal bags, while small, do help to provide relief to those in-need while Manna on Main Street is closed. Partipicants also wrote handwritten notes to leave in each bag to provide additional emotional support and comfort.
"Help is good for the community and the soul," Wade Luquet, PhD, Program Director of the Social Work program said, echoing Catherine McAuley's inspiring quote: "We should be shining lamps, giving light to all around us."
This was just one of the many events going on around campus to celebrate Mercy Week. On Sept. 24, 1827, in Dublin, Ireland, Catherine McAuley founded a home to shelter and educate young girls. This house would be the foundation for the Sisters of Mercy — and for 17 U.S. colleges and universities, including ours. Each September, Gwynedd Mercy University celebrates this heritage during Mercy Week to coincide with the Feast of Our Lady of Mercy.