Sport Management Program Coordinator Maddie Herman Visits London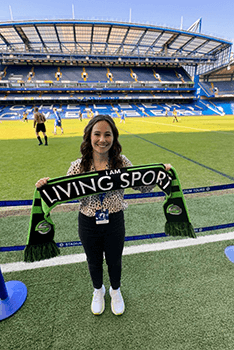 In June 2023, Maddie Herman MsEd, Instructor & Program Coordinator for Sport Management, attended a business tip in London with an organization called Living Sport, where she was asked to serve as a program mentor.
"The International Sport Business trip to London was the most memorable and special experience I've have in the sport business field and in my life. Experiencing London and its sport culture with 25 of the best people is truly an experience I will hold close to me for the rest of my life," Maddie said. "Being immersed in the international sport culture in London is unlike anything I've ever experienced before. Being at London Stadium, home of West Ham United, when they were playing in the championship that night enabled us to feel part of a fandom that is not even comparable to the NFL in the United States."
While in London, Maddie toured London Stadium, home to West Ham United FC, the Chelsea Football Club, Wimbledon, and Queen Elizabeth Olympic Park. Living Sport worked three days at the Royal Windsor Triathlon with 2,300 participations while overlooking Windsor Castle.
"The London '23 group was the most energized, passionate, and hardworking group of individuals I've had the pleasure to be around. Each person brought something unique to the group that had us go from learning to laughing in seconds," said Maddie. "This team went from strangers to family in 10 days. From working the Royal Windsor Triathlon together to exploring the sport culture together, we had experiences together that bond you in a unique and incredible ways."