GMercyU Students Attend Mercy at the UN Program
Earlier this summer, students from Mercy colleges and universities across the country visited the Mercy Global Action office wanting to learn more about justice and advocacy work in the United Nations (UN) and across the globe. The Mercy Global Action hosted an advocacy workshop to share insights into the work done with UN, engaged in conversation on important issues related to social and environmental justice, and immersed participants in the Mercy Justice Advocacy Approach.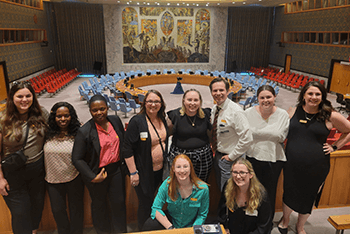 During this visit, GMercyU students attended the Mercy at the UN conference hosted by Mercy Global Action next to the New York UN office. The conference included a full tour of the UN and a discussion about the UN's Sustainable Development Goals and how they intertwine with the Critical Concerns of the Sisters of Mercy.
GMercyU students attended the trip to engage in a practical, experience-based leadership development program where they participated in civic engagement and experiential learning. They took advantage of learning the deeper meaning of how Mercy can make a global impact, especially in terms of climate action and immigration, two of the Critical Concerns of the Sisters of Mercy.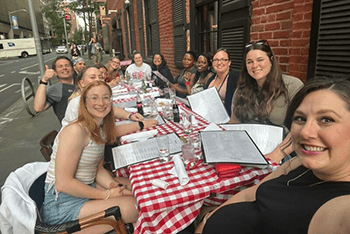 "Having the opportunity to go to the United Nations and work with the Sisters of Mercy was truly indescribable. I was able to leave the United Nations with a new perspective on the world around me and the mission that the United Nations pushes to uphold and accomplish in the coming years. I also left this experience with a better understanding of what it means to be a leader and how to effectively advocate for something one is passionate about. This will definitely be a key moment in my life that I will never forget," shared Criminal Justice major Amber Sims '25, who attended the conference.
"The Mercy at the UN experience opened my eyes to just how expansive the work that the Sisters of Mercy do. With a world with so many injustices, they take the logical and humanistic approach, and it is very comforting knowing they have a presence in organizations as massive as the United Nations. Also, seeing their list of goals to accomplish by 2030 felt very reassuring that there are people in this world want to help others and who are doing it on a larger scale," said Radiation Therapy major Shyanne McGonigle '25.