Tarria Brown Receives Outstanding Student Leadership Award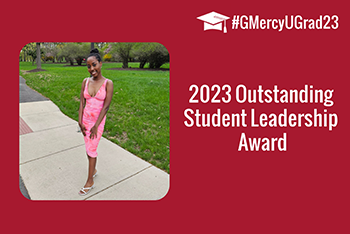 Class of 2023 Psychology graduate Tarria Brown will receive the Outstanding Student Leadership Award at the 2023 Honors Convocation Ceremony. This award is presented to a graduating senior who has demonstrated excellent leadership skills and provided service to the GMercyU community. The selected individual has served in both non-elected and elected positions across a variety of co-curricular activities.
Tarria Brown served as President and Treasurer of the Student Activities Committee (SAC), and Treasurer and Student Government Association (SGA) Representative for GMercyU's chapter of the American Association of University Women (AAUW). She was also an Orientation Assistant and an Orientation Leader and served as a Mercy Mover. In addition, Tarria was a Resident Hall Association (RHA) member, serving as Community Service Representative, and was recently inducted into Psi Chi, the National Psychology Honor Society.

Within the Psychology program, Tarria completed her senior capstone presentation titled The Mind of An Athlete. Over the course of several months, she researched mental health in student-athletes, specifically looking at how their mental health is affected by playing a sport. She held discussions with coaches and faculty members to gain insight and held a workshop titled Building Your Mental Health Toolkit, where she led activities based on Acceptance and Commitment Therapy (ACT) for student-athletes and coaches.

Not only is Tarria an outstanding student leader, but she is an exceptional volunteer as well. As the Community Service Representative for RHA where her primary responsibility was to create impactful community service opportunities that engaged residents, Tarria organized and managed a blanket-making service activity for the Children's Hospital of Philadelphia, sent letters to the military, and planned and facilitated COVID Care Bags for a women's domestic violence shelter.

After graduation, Tarria plans to intern and work at various physical therapy, occupational therapy, and athletic training settings prior to applying to graduate school to obtain her master's degree in Occupational Therapy.